COVID-19
If you have an update to your business, please contact us at riverdistrictassociation@gmail.com.
Thanks to the City of Danville and Danville Public Works, curbside service is now an even better, convenient option during this time of social distancing! Several businesses have designated curbside space for to-go orders. Phone numbers, websites, and more information are available at the link above. Continue supporting our small businesses!
Looking for gift cards? Click HERE to see all the local businesses selling gift cards and how to purchase!
---

Click to view the results of the Consumer Confidence Survey!
---
How to Support your Community During COVID-19, from our friends at Wassau River District
---
Links to Financial Assistance and other Resources for Small Businesses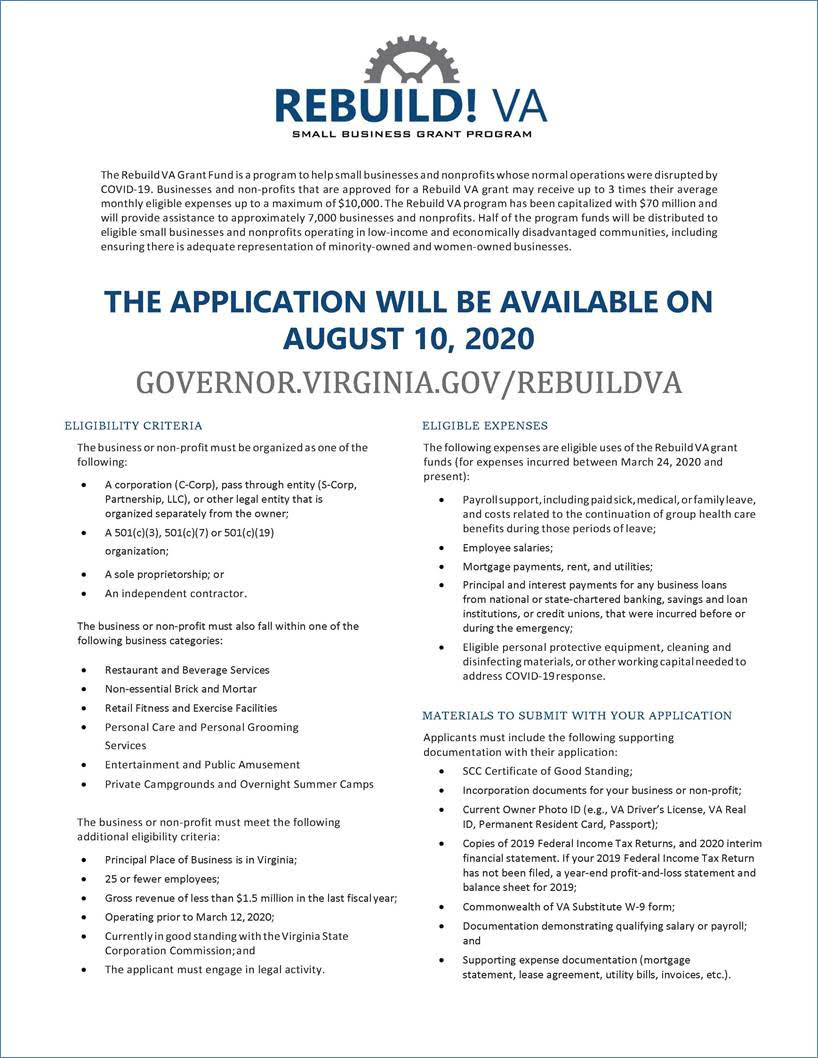 Overview of Marketing & Ecommerce Matching Grant
Application: Small Business Rent Relief & Marketing & Ecommerce Matching Grant
Relief Resources for Entrepreneurs Everywhere
Save Small Business Fund - OPEN NOW!
SBA Guide to Small Business Resources and Loans
Financial Resources for Food and Beverage Businesses and Restaurant Workers
Small Business Relief Tracker: Funding, Grants And Resources For Business Owners Grappling With Coronavirus
Danville-Pittsylvania County Chamber of Commerce
The Small Business Administration's Economic Injury Disaster Loan program
Virginia 30 Day Fund | Provides forgivable loans for Virginia-based small businesses
Facebook is offering $100M in cash grants and ad credits through their Small Business Grants Program
Congressman Riggleman COVID-19 Assistance
Congressman Riggleman is very concerned with the affect that COVID19 will have on small businesses, as well as other businesses and constituents in the 5th District. In order for Virginia to qualify to receive SBA assistance, we need to have as many small businesses as possible, in all localities in Virginia, send an email to commerce.trade@governor.virginia.gov with the Subject: Disaster Area Request, providing the name of business, address, contact information, and assistance requested, and specifically request your locality be designated as a disaster area. In addition, we are asking that businesses also complete Congressman Riggleman's form so our office can keep track of the assistance that is being requested in the 5th District. Congressman Riggleman and staff are continuing to monitor this situation very closely and if you have any questions, please feel free to reach out to our district offices at (434) 973-9631 and (434) 791-2596 or go to https://riggleman.house.gov/ issues/covid-19.
Lieutenant Governor, Justin E. Fairfax: A Message to Governor Northam regarding COVID-19
Business owners may want to consider contacting Governor Ralph Northam in support of the suggestions in the Lieutenant Governor's message to Governor Northam which recommends specific actions to assist small businesses.
Federal Support for Small Businesses | Add your voice now!
We recognize the need for immediate access to grants and simplified disaster loan processes. Main Street America is partnering with Small Business Majority to share our voice as advocates for small businesses, micro-businesses, and entrepreneurs across the country. We encourage local businesses to join – to amplify the need for immediate, direct support for Main Street-scale businesses.
You can stay tuned to the detailed legislative updates that organizations like Small Business Majority and National Federation of Independent Businesses are providing on a daily basis.
An Overview of the Small Business Association 7(a) Loan Program and Summary of Other CARES Act SBA Provisions
Small Business Association Provision Highlights
CARES Act and the Paycheck Protection Program
Characteristics of the Paycheck Protection Program
Paycheck Program Loan Forgiveness
Which Lenders are qualified to lend under the Paycheck Program
Who Qualifies as a Borrower for the Paycheck Program
Loan Programs Currently Available from the SBA
To help small business owners and entrepreneurs better understand the new programs that will be available to them, the U.S. Senate Committee on Small Business & Entrepreneurship has created a comprehensive guide to many of the small business provisions in the CARES Act that was passed by Congress on March 27
How to Apply for an Economic Injury Disaster Loan
---
Links on Business Marketing during COVID-19
Marketing your small business during this time
How minimize disruptions during emergencies
Ways to retain customers during Coronavirus outbreak
---
Webinars
Refocus and Rebuild | Webinar Series, Register Now!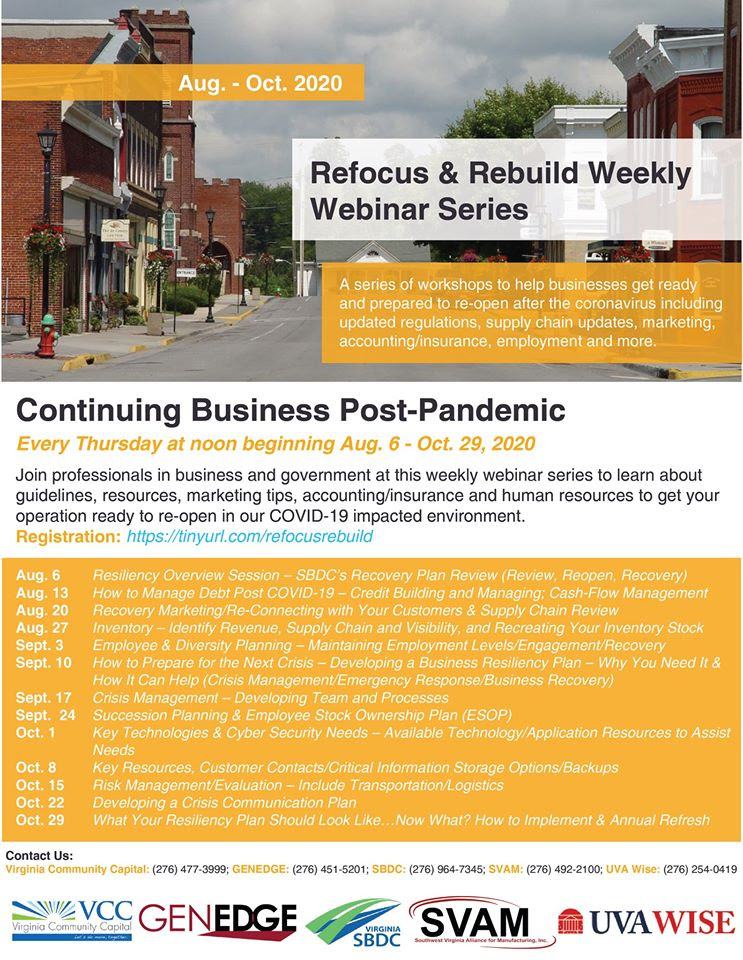 ---
Other Useful Information & Resources
Danville City-Pittsylvania County Resources
Virginia Governor's Office Updates