GET Boosted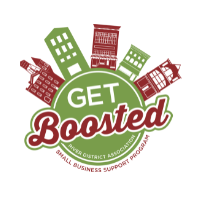 RDA GET Boosted (Growth, Expansion, Training) is a three-part, business assistance program that offers space and opportunity for existing River District businesses to get creative, access expert technical advice, and submit for grant funding to make their creative ideas a reality.
Phase 1: Get Creative, is a 2-hour group ideation session scheduled for August 26th, from 6 p.m. to 8 p.m. This is an in-person session, but RDA recognizes the ever-changing challenges of the Covid -19 pandemic, so a Zoom option is available for those uncomfortable with attending an in-person event. Participating businesses will be guided to brainstorm individually and in groups to think creatively about solutions to challenges they face. Interested businesses can RSVP for the ideation session, by 5pm, Monday August 23rd at: https://tinyurl.com/RDAGETBoosted. All businesses located within the River District are invited to attend.
Phase 2: Make a Plan, asks participating businesses submit a brief explanation of their idea generated at the Get Creative session. RDA will work one-on-one with businesses to turn their creativity into a plan. If businesses already have a plan but need a little financial boost to make it happen, they can apply for a grant to implement their idea.
Phase 3, Make it Happen, invites participating businesses to submit a grant application to help implement and fund their creative idea. Grant awards may be up to $5,000 depending on the projects submitted, and funds available. Grant applications are due September 17th, 2021.