GET Boosted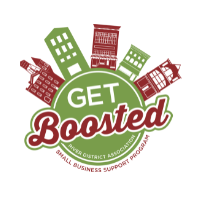 GET Boosted grants are for up to $5,000 (no match required) to implement a new, different, or creative project that will meet at least one of the following objectives: Increase your business's revenue OR add cost savings OR increase foot traffic/customers. Projects can vary from purchasing equipment that will enable you to do something new, different or creative with your business; to getting expert advice on how to lay out your store to enhance the customer experience; to reworking your online presence or implementing an e-commerce solution; to getting a specific kind of professional training to grow your business. Please fill out this application as thoroughly as you are able and submit by February 28, 2023. The River District Association will review applications and determine grant decisions on a rolling basis.
Please note: The River District Association will be prioritizing applications from new GET Boosted applicants (who have not received a GET Boosted grant in the past). If we are able to open to past recipients, then your previous GET Boosted grant must be completed and closed out with RDA.
If you have any questions about this application, do not hesitate to call the River District Association at 434-791-0210 or email Will Mackaman at will@riverdistrictassociation.com.
Apply HERE.
Learn about the GET Boosted recipients on our Blog!