Blog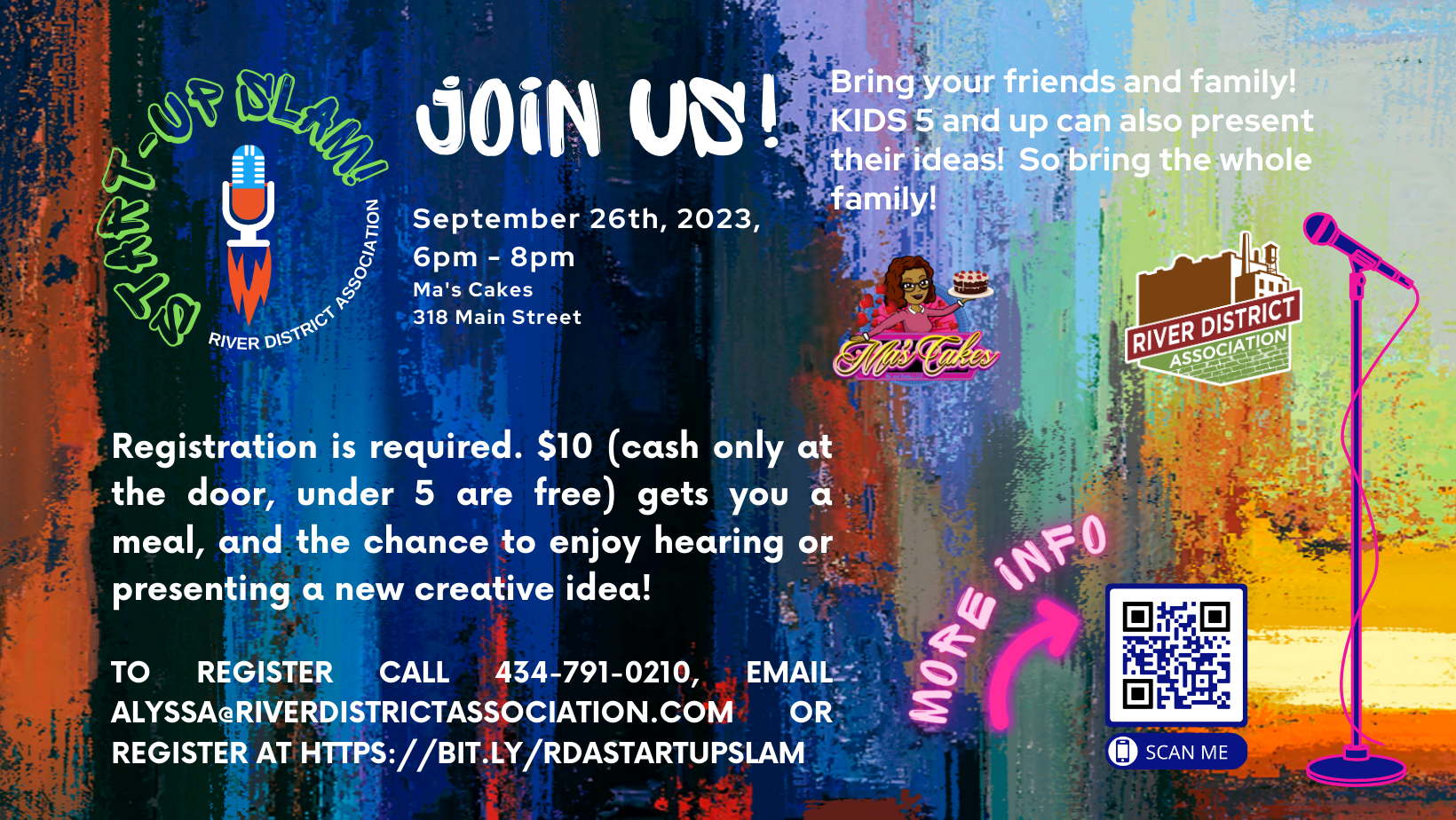 The River District Association (RDA) is excited to be hosting another session of "Start-Up Slam." It is a fun community-oriented event where people share a meal, share creative business ideas, make new friends, and network with both creative people and people who support creative people! In addition to having people share ideas, attendees can participate in community conversation activities and win door prizes. RDA encourages the Danville community to bring friends and family. Even if you aren't sharing an idea, it will be a fun evening! Anyone in the community is invited to attend (reservation required, limit 100 people). For just $10 per person (cash only at the door), you can join other members of the community to have a simple meal - and share some of those great ideas that you keep thinking up. Anyone age 5 and up can share their good business idea. Children under 5 can attend at no cost but will not get to vote for their favorite idea.
This Start-Up Slam will be on Tuesday, September 26th, from 6 pm to 8 pm at Ma's Cakes at 318 Main Street.
To reserve a seat, call the RDA office at 434-791-0210 or email alyssa@riverdistrictassociation.com and let us know you are coming. You can also register at: bit.ly/RDAStartUpSlam
Up to 15 participants at the event are welcome to share their ideas with the crowd (3-minute limit), and attendees will be able to vote on their favorite at the end of the evening. The top vote-getter takes home all the cash collected at the door - no strings attached! No business plans and no requirements, just you and your next great idea!
Those who wish to share their idea have the following guidelines:
Ideas must be new business ideas (not yet established).
Those who wish to share their idea will put their name in at the door.
Up to 15 names will be drawn randomly to present (if more than 15 people put their name in, not all may be able to present).
Each presenter has 3 minutes to share one idea.
We encourage those planning to present to spread the word, bring friends and family, and be open to new connections!
RDA Programs and Services Manager Will Mackaman said, "Whether you're a writer, tattoo artist, baker, or someone with another creative talent, you may be able to turn that talent into a business. The world and our community is full of people who have done so. This Start-Up Slam is geared toward artists and creatives, but as always, all new business ideas of all types are welcome and eligible for the cash prize!"
Story map chronicles history of buildings in the River District

The City of Danville's Information Technology Department, in conjunction with the planning division of the Community Development Department, has released a new interactive "story map" detailing the history behind many of the most significant structures in the River District.

Called the "Historic Sites of the River District," the map highlights 24 individual addresses, ranging from iconic landmarks to lesser-known gems.

"Danville has been a witness to significant historical events, architecture, and remarkable individuals who have shaped our past," said Scott Longerbeam, GIS coordinator for the Information Technology Department. "This story map was a great opportunity to research our River District's history and tell its story in a new way."

Each story point provides images and narrative text. When online, viewers can choose a story point by browsing through the collection. The map will follow where you navigate. Also, markers with QR codes have been placed in the windows of the buildings. When scanned with a smartphone or other device, the code will open the story map's web page.

"Many of these stories are well-known, but others may be new to you," Longerbeam said. "We believe anyone living here or visiting will find something interesting and want to learn more about our history."

With this story map, the Information Technology Department now has seven online story maps in its collection, including historic markers, old tax maps and historic photos, the Old West End Historic District, and the Riverwalk Trail. To view the "Historic Sites of the River District" and other story maps, click here: danvillegis.maps.arcgis.com
###
News Release For immediate release
Thursday, Aug. 10, 2023
Media contacts:
Scott Longerbeam, GISP
GIS Coordinator
Information Technology
434-799-5205
longejs@danvilleva.gov

Arnold Hendrix
Public Information Officer
O - 434-857-3331 M- 434-835-7102
arnold.hendrix@danvilleva.gov
Check out this month's NEWSLETTER!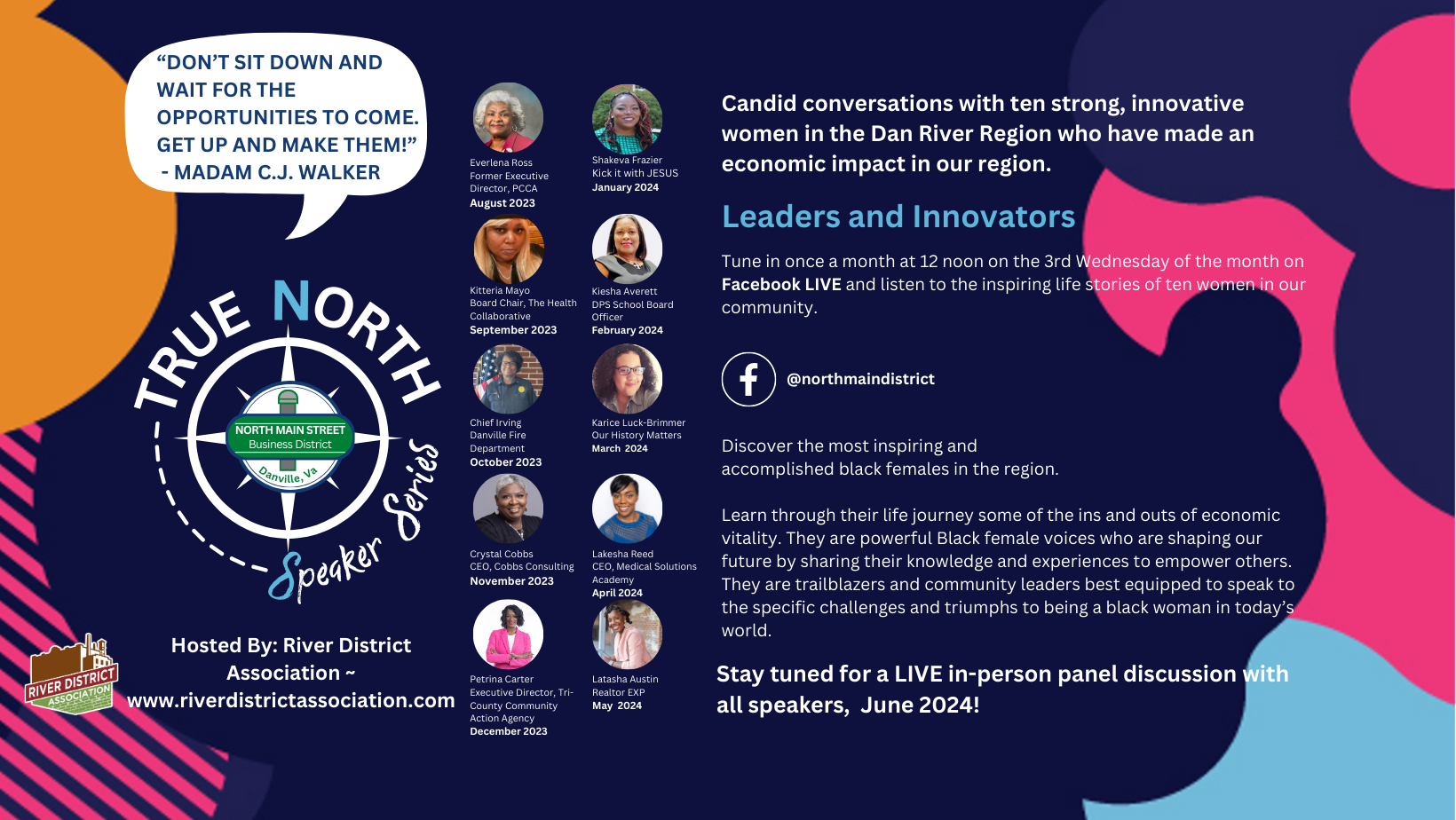 DANVILLE VA – The River District Association (RDA) is excited to invite the community to tune in to the "True North Speaker Series,' beginning on Wednesday, August 16th. The series aims to facilitate candid conversations with ten strong, innovative women in the Dan River Region who have made an economic impact in our region.
Tune in once a month at 12 noon on the 3rd Wednesday of the month on Facebook LIVE on the North Main Street Business District page (@northmaindistrict) and listen to the inspiring life stories of ten women in our community. Discover the most inspiring and accomplished black females in the region. Learn through their life journey some of the ins and outs of economic vitality. They are powerful Black female voices who are shaping our future by sharing their knowledge and experiences to empower others. They are trailblazers and community leaders best equipped to speak to the specific challenges and triumphs to being a black woman in today's world.
Programs and Services Director – Design and Expansion, Lashawn Farmer said, "It gives me great honor to be able to sit down and talk with this group of amazing women. This region has made such strides over the last decade, and it is an amazing opportunity to talk to some of the people behind the work. We often see the progress but don't know who is making the footprints. This speaker series is shining the light on the work that has been done and gives vision on what is next!"
The following women will participate:
August 2023 – Everlena Ross, Former Executive Director of Pittsylvania County Community Action
September 2023 – Kitteria Mayo, Board Chair, The Health Collaborative
October 2023 – Chief Irving, Danville Fire Department
November 2023 – Crystal Cobbs, CEO, Cobbs Consulting
December 2023 – Patrina Carter, Tri-County Community Action
January 2024 – Shakeva Frazier, Kick -it with Jesus
February 2024 – Keisha Averett – DPS School Board Officer
March 2024 – Karice Luck-Brimmer – Our History Matters
April 2024 – Lakesha Reed, CEO, Medical Solutions Academy
May 2024 – Latasha Austin, Realtor EXP
The June 2024 event will be in person and feature all ten speakers on a panel. Stay tuned for more information.