Blog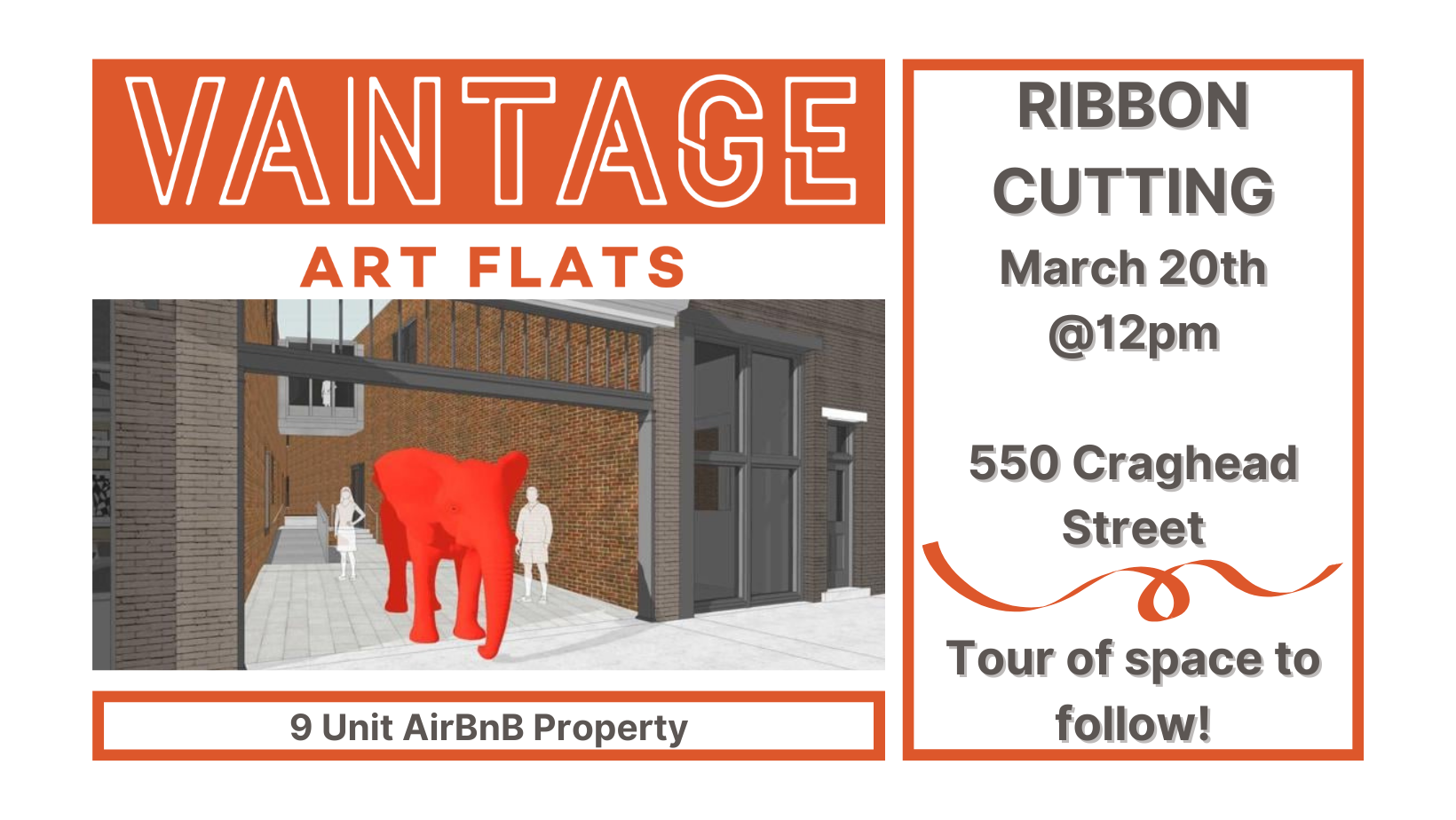 DANVILLE VA – The River District Association, the City of Danville and VANTAGE Art Flats, are pleased to invite the community to a ribbon cutting on March 20th, 2023 at 12 pm, celebrating the opening of VANTAGE Art Flats.
VANTAGE Art Flats, located at 550 Craghead Street, is an art themed AirBnB project that includes 9 apartment-like lodgings, and art studio, and art themed outdoor space that will eventually connect to a city park behind the building. This project is part of the award winning 500 block revitalization project, spearheaded by local business owner and River District enthusiast, Rick Barker.
"VANTAGE Art Flats, in the heart of the River District, is designed to deliver a unique Danville experience to the region's most discerning travelers. This dedicated Airbnb property will offer apartment style amenities for overnight guests, with a focus on both regional and international art." Says Barker, "This restoration project began with buildings vacant for decades and in a terrible state of disrepair. The buildings, heavily damaged by Hurricane Michael, have been thoughtfully restored to the highest standard, insuring their life span into the next century. It is exciting to see Danville's antique architecture repurposed to become a vital part of our new economy."
"Our city is undergoing a remarkable resurgence, and what is happening in our River District is a great example of that activity," Mayor Alonzo Jones said. "In the last 12 to 13 years, public investment of $52 million in the River District has resulted in $310 million of private investment. Take a drive along Craghead Street and you will see buildings once vacant that have a new life as living spaces and as places to eat and gather with their friends. This project is a great example of the regeneration of this street and our downtown."
In addition to renting out lodging through AirBnB, VANTAGE Art Flats will also house an artist in residency program that will offer studio pace and lodging for artists from around the country and world. Artists will be responsible for their own travel, materials, meals, and personal incidentals, Vantage Art Flats will provide housing and studio space at no cost as well as a monthly stipend of $3,000.
DANVILLE VA –
The River District Association (RDA) Board of Directors is pleased to announce that Diana L. Schwartz, Executive Director of the River District Association, will take on the new title of Chief Executive Officer, effective immediately. The change in title will more accurately reflect her role leading and growing the downtown revitalization organization.
Since being hired by the RDA Board of Directors in 2017, Schwartz has focused on creating high performing programs such as the RDA Dream Launch Bootcamp and resulting pitch opportunities, securing outside grant funding through initiatives like the national award-winning 2018 Vote Your Main Street campaign to assist in property preservation and development on North Union Street, and is a recognized leader regionally, building collaborative relationships with organizations and individuals across the Dan River Region.
The success that Schwartz and the RDA Board have experienced driving the change and growth of the organizational initiatives over the past five years has opened opportunities to access additional resources; especially notable is the additional talent Schwartz has attracted to the RDA team. With this organizational growth, tripling the annual budget and growing a team from 1 staff person to 5, Diana's role has shifted from creating and managing new programs and services for the downtown stakeholder and business community, to a greater emphasis on growing local leaders, enhancing strategic local, regional, and statewide relationships, and finding appropriate opportunities for RDA to serve as an even greater resource for economic and community development for the region.
"Over the past several years, Diana has positioned RDA as a collaborative leader in the region and garnered national recognition for its work in the River District." Said, Rachel Covington, RDA Board President, "As the organization grows and begins to influence social and economic development in areas beyond the River District, the RDA Board feels that this title change will more accurately reflect the next chapter of the organization. Diana is most deserving of this, and she is dedicated to leading a full team that will create a positive impact in the Dan River Region."
Check out our February Newsletter HERE.
The link to the planning guide isn't working correctly in the newsletter. Here it is!

Download a PDF of the full presentation with notes.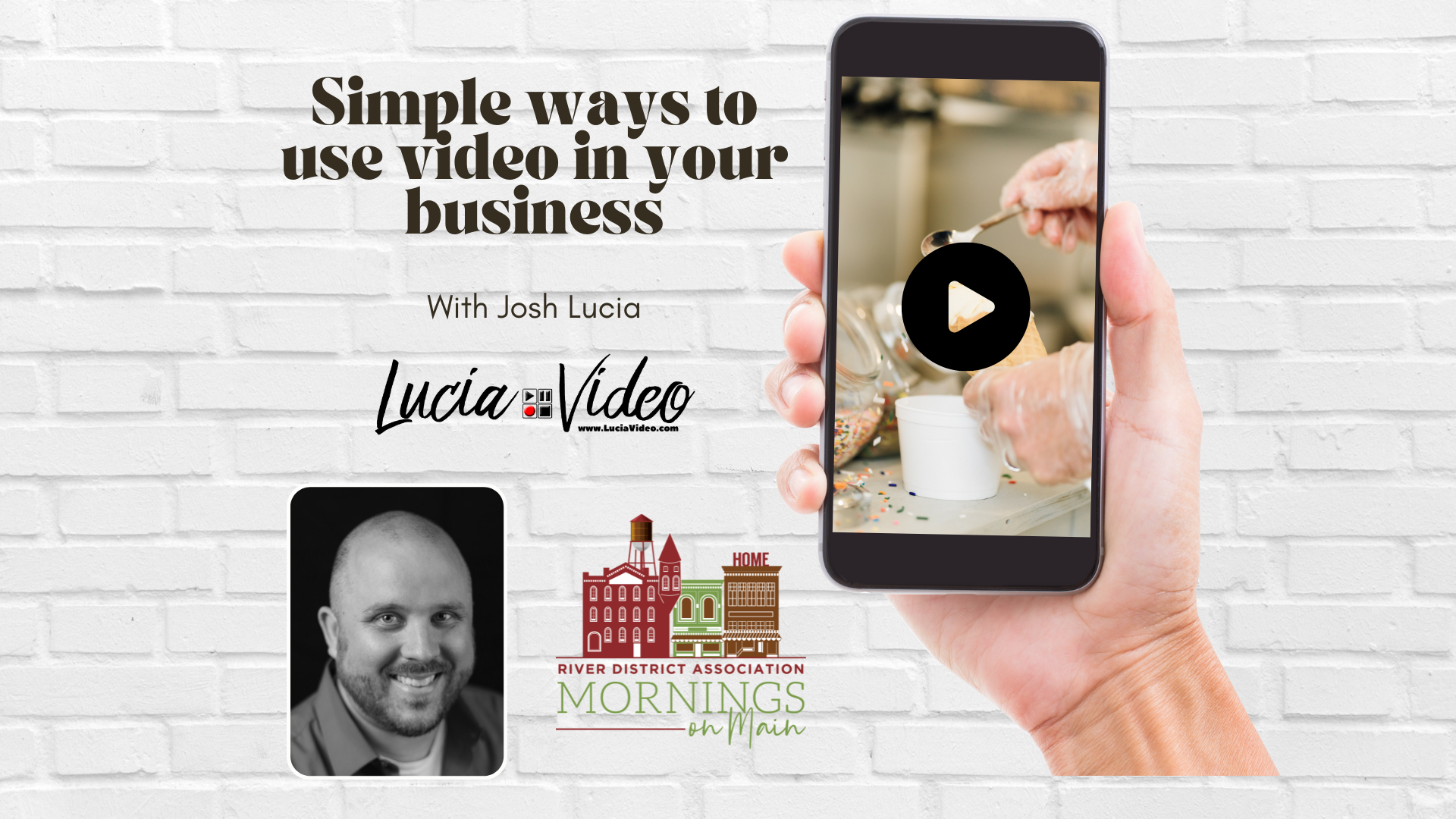 Hawthorne & Jade Design Company used an RDA Façade Improvement Grant to spruce up the outside of their warehouse located at 706 Wilson Street with paint and signage. Hawthorne & Jade Design Co. is a proud women-owned business that provides professional home staging. https://www.hawthorneandjade.com/