Blog
River District Association announces RDA 2023 Dream Launch Bootcamp Now Open for Registration Over $129K available to local entrepreneurs that complete the Dream Launch Bootcamp
DANVILLE VA – The River District Association (RDA) is excited to announce that registration has opened for the fifth cohort of the River District Association Dream Launch Bootcamp. Since the start of the program in 2019, over 400 individuals have participated in some or all of the boot camp classes; 133 individuals have completed the entire series of classes and earned a Dream Launch Bootcamp Certificate.
The RDA Dream Launch Bootcamp is for anyone who wishes to learn more about opening, owning, and operating a business in the Dan River Region; the Bootcamp is also opened to current businesses that would like to expand as well as those that would like to audit the courses to prepare for potentially opening a business in the future. There is no cost to participate in the Bootcamp.
Entrepreneurs or existing businesses who complete all six Bootcamp sessions and plan to open brick and mortar locations in the River District may apply to compete in the RDA IGNITE Business Pitch Competition (Formerly the RDA Dream Launch Pitch Competition) for awards and incentives totaling $50,000. Additionally, RDA Dream Launch Bootcamp participants who wish to open a business outside of the district are eligible to compete in the Danville Pittsylvania County Chamber of Commerce Rev-Up Pitch. Rev-up will have $75,000 available in awards and incentives.
Movement Bank will be involved with both pitch opportunities this year, offering two $2,000 grants; one to an RDA IGNITE Pitch participant, and one to a Rev-Up Pitch participant.
RDA will once again offer an additional educational resource for food related businesses in the region. The Food and Beverage Workshop will be optional for all Dream Launch Bootcamp participants but required for those wishing to pitch specifically to open a food and beverage business. Panelists from Virginia ABC, Health Dept, and the Danville and Pittsylvania County Planning and Zoning Departments will be on-hand to provide information needed for business owners in this industry. Local entrepreneurs with an interest in learning more about opening a food and beverage business are also welcomed to attend; this workshop is free but requires separate registration.
"The support of Dream Launch on both the local and state level really speaks to the quality of the program and all the partners involved" says Diana Schwartz, Executive Director of the River District Association, "without collaboration, the program would not be as successful. We are particularly thankful to our local lending institutions that have chosen to work with our RDA Bootcamp Certificate holders. Access to capital is the number-one hurdle for most start-ups, and the opportunity to apply for a business line of credit as a brand-new business owner will go a long way to get our entrepreneurs the financial assistance they need to be successful."
Registration for the RDA Dream Launch program is now open at https://tinyurl.com/2023RDADreamLaunch or can also be found at www.riverdistrictassociation.com or on the RDA social media pages (Facebook, Twitter, Instagram, LinkedIn)
If you'd like to know more, you can register to attend a virtual information session being held on Tuesday, December 6th, from 6pm-7pm. Sign up at: https://tinyurl.com/RDADreamLaunchInfoSession
Funding for the RDA Dream Launch Boot Camp, IGNITE Business Pitch and Rev-Up Danville Pittsylvania Pitch is made possible by the City of Danville Economic Development office, Pittsylvania County, Danville Regional Foundation and The Dan River Entrepreneur Ecosystem.
RIVER DISTRICT ASSOCIATION ANNOUNCED AS 2023 GREAT AMERICAN MAIN STREET AWARD SEMIFINALISTS
One of Eight Organizations Recognized for Excellence in Transforming Downtown Districts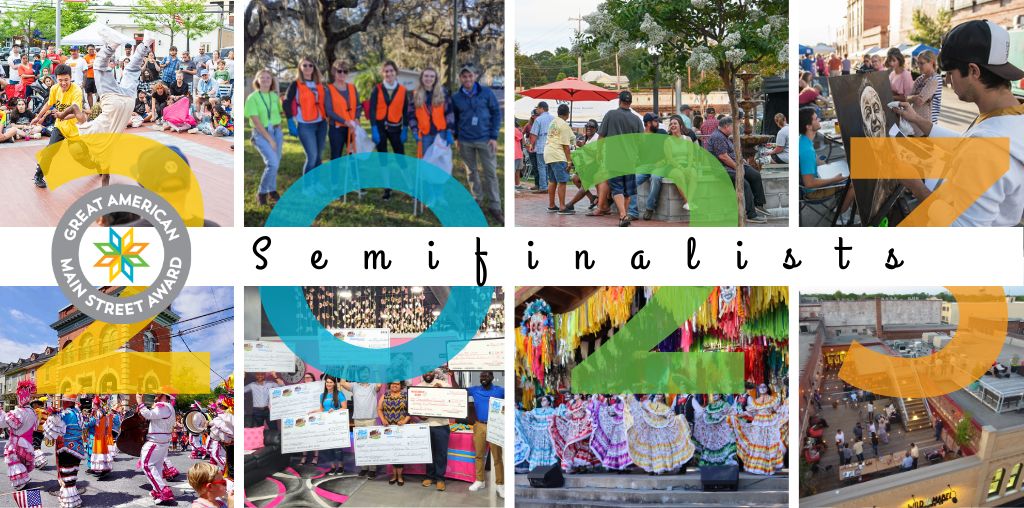 Danville, Virginia, September 21, 2022 – Main Street America has announced The River District Association (RDA) as a 2023 Great American Main Street Award (GAMSA) Semifinalist. This prestigious award is the nation's top award recognizing communities for their excellence in comprehensive preservation-based commercial district revitalization. A jury of professionals and leaders in the fields of community and economic development and historic preservation convened to review a nationwide pool of applicants. After thoughtful deliberation, the jury unanimously selected eight semifinalists that demonstrate exemplary use of the Main Street Approach™ to lead community-based transformation strategies in their downtowns.
The 2023 GAMSA Semifinalists are:
River District Association – Danville, Virginia
Denison Main Street – Denison, Texas
Downtown Florence Main Street – Florence, South Carolina
Metuchen Downtown Alliance – Metuchen, New Jersey
Mills 50 Main Street – Orlando, Florida
Ruston Main Street – Ruston, Louisiana
Downtown Sheridan Association – Sheridan, Wyoming
Downtown Sykesville Connection – Sykesville, Maryland
"The Great American Main Street Award is the highest honor that we grant to organizations within our network," said Hannah White, Interim President and CEO at Main Street America. "We are proud to recognize RDA and seven fellow organizations as 2023 GAMSA Semifinalists for their excellence in transforming their downtown districts through strategically implemented economic vitality, design, promotion, and organization initiatives."
From small towns with traditional downtowns to commercial corridors within larger cities, the 2023 GAMSA represent the diversity of the Main Street America network and the power of the Main Street Approach™. Semifinalists have generated over $872 million in local reinvestment, helped open 863 net new businesses, facilitated the creation of 4,706 net new jobs, catalyzed the rehabilitation of 1,922 historic buildings, and leveraged 178,452 volunteer hours.
RDA Executive Director Diana Schwartz says, "We are very grateful for the team at the National Main Street center for recognizing the hard work that has been done in the River District for the past decade. We are thrilled to be selected once again as one of 8 semifinalists nationally. This is a very prestigious honor that I hope will help our long-term residents recognize that Danville is nationally recognized as a model for revitalization. We look forward to the continued success of our downtown that will illuminate a bright path to move forward and share the improvements and opportunities to all areas of our city and our region."
The 2023 Great American Main Street Award winners will be announced at the Opening Plenary of the 2023 Main Street Now Conference in Boston, Massachusetts on March 27, 2023.
###
ABOUT THE GREAT AMERICAN MAIN STREET AWARDS
The Great American Main Street Award program recognizes communities exemplifying the use of the Main Street Approach™ to revitalize commercial districts. Winners are selected from a nationwide pool of applicants by a jury of Main Street professionals and leaders in the fields of community and economic development and historic preservation. Since the award's inception in 1995, over 100 Main Street programs have been honored as GAMSA communities. For more information, visit mainstreet.org.
ABOUT MAIN STREET AMERICA
Main Street America leads a movement committed to strengthening communities through preservation-based economic development in older and historic downtowns and neighborhood commercial districts. For more than 40 years, Main Street America has provided a practical, adaptable, and impactful framework for community-driven, comprehensive revitalization through the Main Street Approach™. Our network of more than 1,200 neighborhoods and communities, rural and urban, who share both a commitment to place and to building stronger communities through preservation-based economic development. Main Street America is a nonprofit subsidiary of the National Trust for Historic Preservation. For more information, visit mainstreet.org.
ABOUT RIVER DISTRICT ASSOCIATION
The River District Association (RDA), formerly Downtown Danville Association, was formed in 1999 to coordinate efforts to revitalize the downtown Danville, Virginia community, now called the River District. Since 2016, RDA and the City of Danville have enjoyed accredited status under the National and Virginia Main Street Programs; the program and accreditation are recognized nationally as one of the most successful formulas for downtown revitalization.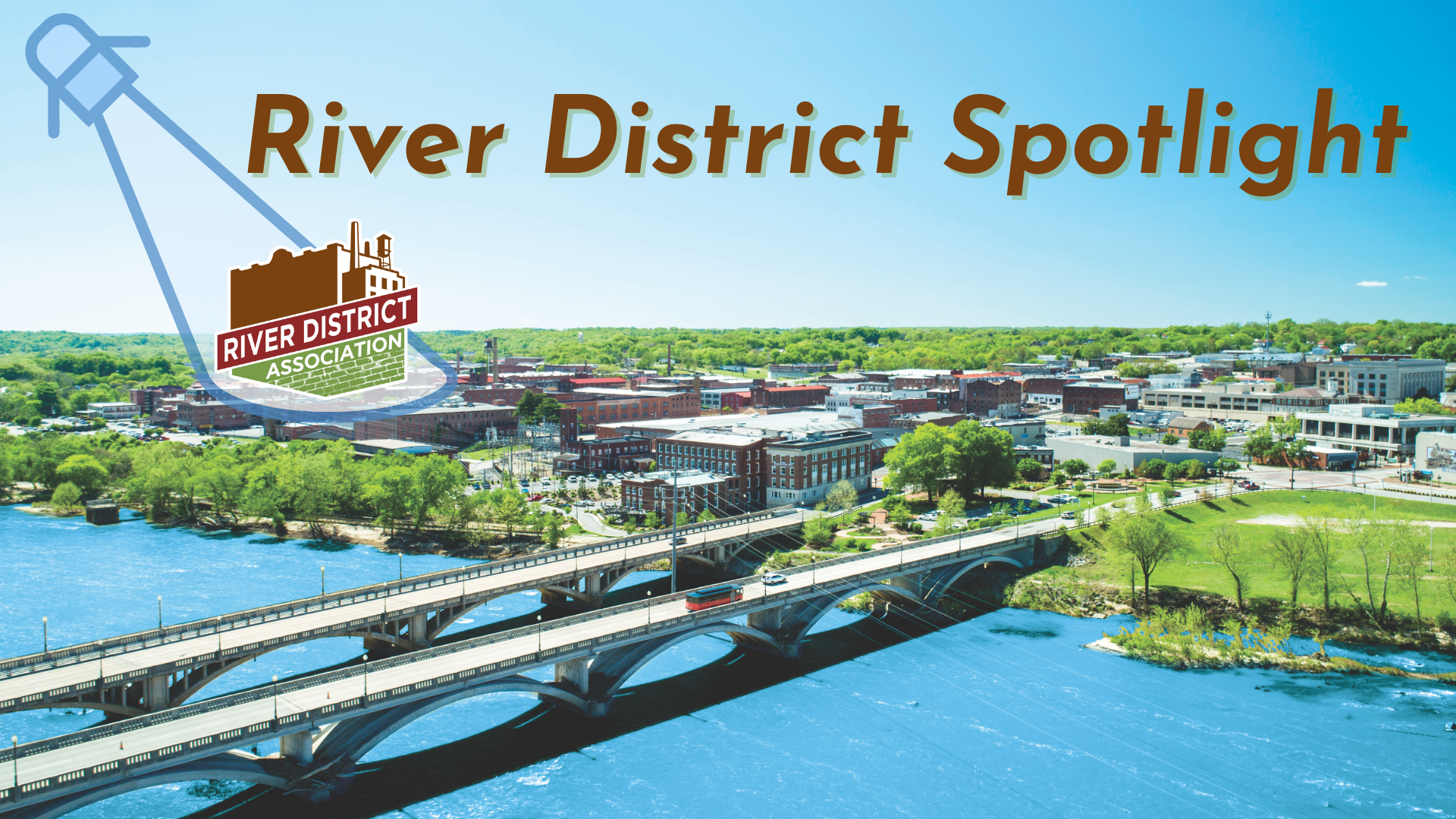 The River District Association is so excited to share our new monthly series, River District Spotlight, produced by Lucia Video. This series is a chance for us to celebrate new businesses, anchor businesses, and upcoming events. You can watch it the first of each month on River City TV, or the RDA YouTube Channel.
Check out our latest River District Newsletter.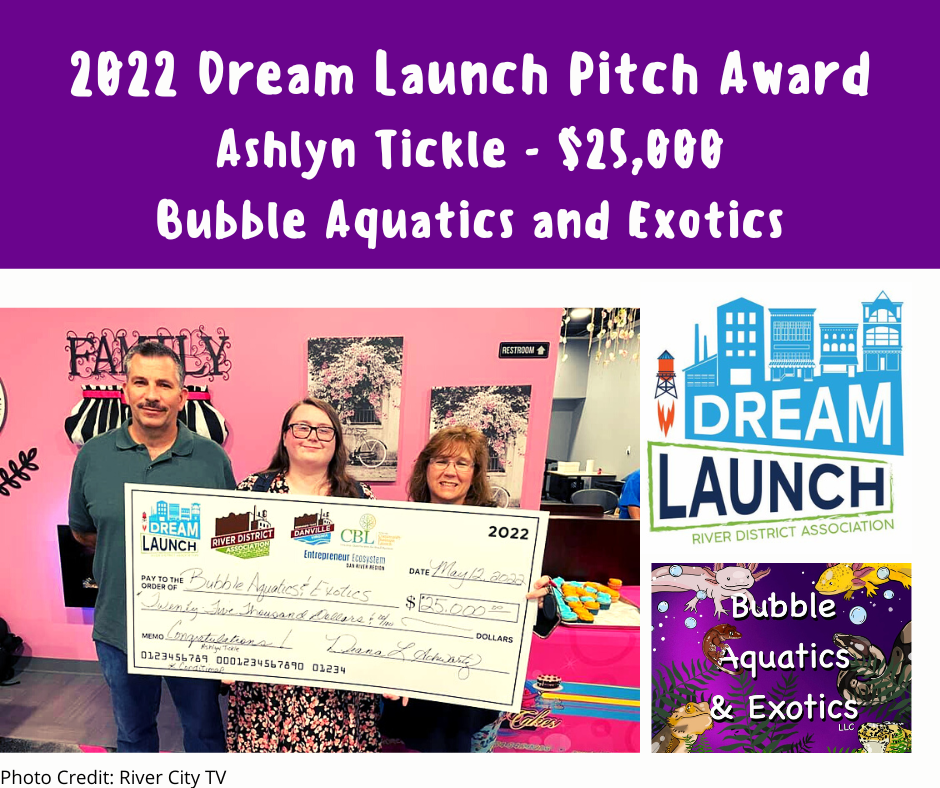 The River District Association is excited to celebrate the 2022 Dream Launch Pitch Grant Awardees! These businesses participated in a 6 week Dream Launch Bootcamp that covered topics from financial planning, business planning, access to capital, marketing and more. Those that attended all 6 classes were able to pitch for funding if they chose to.
Bubble Aquatics and Exotics, owned by Ashlyn Tickle, was awarded a $25,000 Dream Launch Grant.
Bubble Aquatics and Exotics owner Ashlyn tickle was born and raised in Danville. She has always been fascinated by reptiles and all kinds of animals. When she was little she used to help her dad in the garden, and would befriend the resident garter snakes.
Ashlyn moved to Florida in 2018 for college and fell in love with a store there that specializes in reptiles. That is when she got her first pet Axolotl. She loved her Axolotl but had to give her to a friend when she moved back to Virginia during Covid, because at the time Axolotls were not legal in Virginia. As of last August (2021) they are now legal and they have been reunited.
Since moving back to Danville, she has noticed there are very few resources in the region for people who love reptiles. She began to speak to other reptile owners who were having to travel long distances to get food and supplies for their pets. Through these conversations, she realized there was a market and a need for reliable reptile supplies. Thus, Bubble Aquatics and Exotics was born!
Bubble Aquatics and Exotics will provide the region with a reliable source of products for all manner of reptiles, sugar gliders, hedgehogs, bunnies and rabbits as well as traditional pets. The store will also be a source of a wider variety of animal products such as pond stock (fish for stocking ponds), and live coral for saltwater fish tanks. Bubble Aquatics and Exotics will also sell hunting and fishing licenses, and is working with the Department of Agriculture to be able to sell poultry and waterfowl in the spring and summer. These birds would come from a specialized breeder for healthier birds and hatching eggs. With the Department of Agriculture's permission (once obtained) Bubble Aquatics and Exotics will also sell quail. For those who like to knit, she also plans to stock ethically raised Angora rabbit fur, either already spun for knitting, or in its raw form for those who knit.
Ashlyn has already been selling Axolotls that she breeds and is looking forward to having a store in the River District. She is motivated by providing reptile (and all animal) lovers, the products they need to keep their animals healthy and happy.
What made you decide to take part in the Dream Launch Bootcamp/Pitch?
"When I began looking for buildings, I learned about the Dream Launch Bootcamp opportunity from a City employee"
How would you describe your experience in the Dream Launch Bootcamp?
"It was very informative and fun. We learned all about the steps required to start and run a business. I would recommend it to others to help build confidence."
How will the Dream Launch Grant funds help your business?
"With the grant I will be able to purchase inventory and make renovations to the building, as well as buy equipment, display case, furniture, and expand my marketing."
Words of wisdom for new entrepreneurs?
"Do things one step at a time. Have a mentor. Participate in the Dream Launch classes, they allow you to network, find products, and meet people in the industry."