July 2023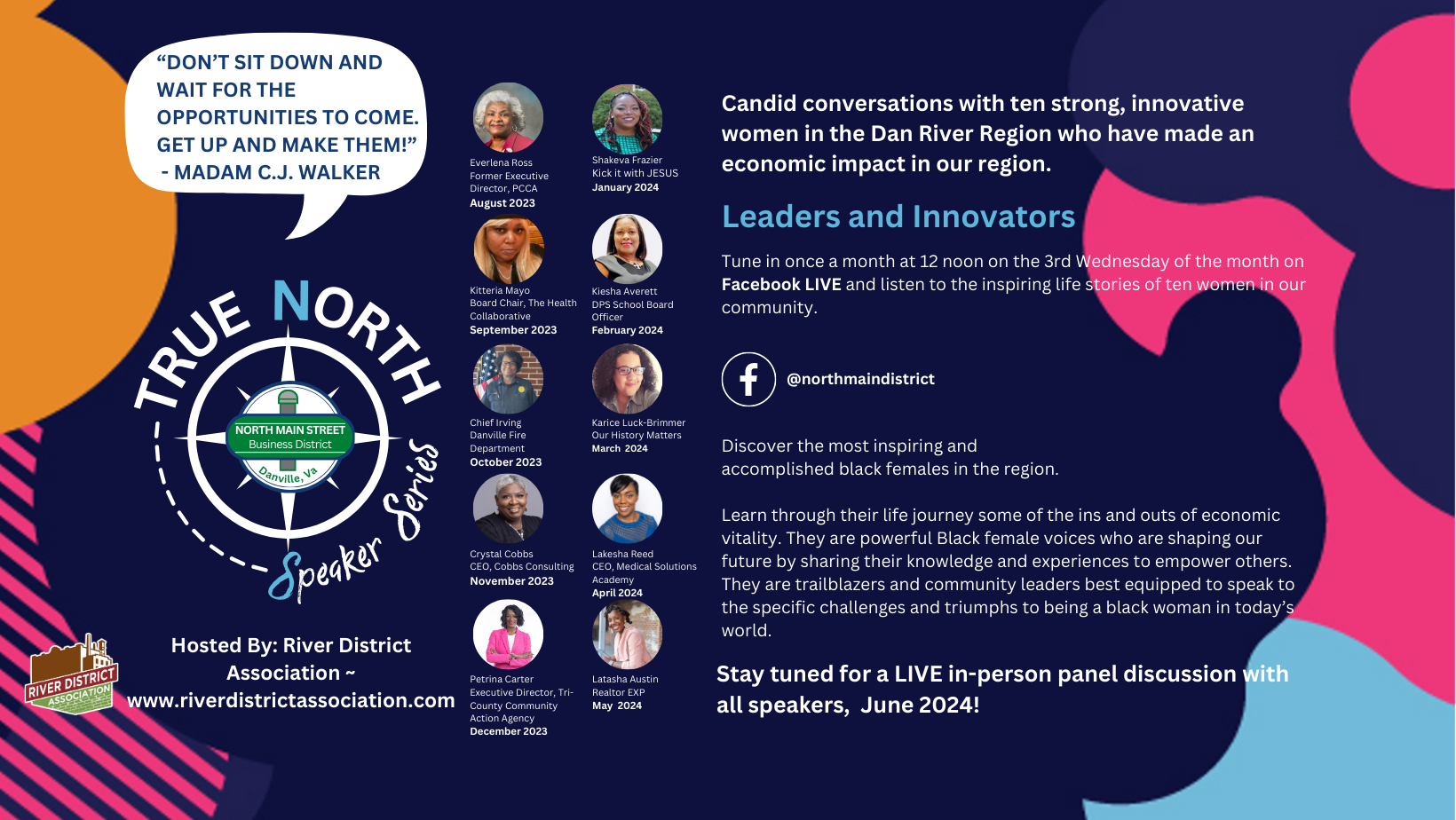 DANVILLE VA – The River District Association (RDA) is excited to invite the community to tune in to the "True North Speaker Series,' beginning on Wednesday, August 16th. The series aims to facilitate candid conversations with ten strong, innovative women in the Dan River Region who have made an economic impact in our region.
Tune in once a month at 12 noon on the 3rd Wednesday of the month on Facebook LIVE on the North Main Street Business District page (@northmaindistrict) and listen to the inspiring life stories of ten women in our community. Discover the most inspiring and accomplished black females in the region. Learn through their life journey some of the ins and outs of economic vitality. They are powerful Black female voices who are shaping our future by sharing their knowledge and experiences to empower others. They are trailblazers and community leaders best equipped to speak to the specific challenges and triumphs to being a black woman in today's world.
Programs and Services Director – Design and Expansion, Lashawn Farmer said, "It gives me great honor to be able to sit down and talk with this group of amazing women. This region has made such strides over the last decade, and it is an amazing opportunity to talk to some of the people behind the work. We often see the progress but don't know who is making the footprints. This speaker series is shining the light on the work that has been done and gives vision on what is next!"
The following women will participate:
August 2023 – Everlena Ross, Former Executive Director of Pittsylvania County Community Action
September 2023 – Kitteria Mayo, Board Chair, The Health Collaborative
October 2023 – Chief Irving, Danville Fire Department
November 2023 – Crystal Cobbs, CEO, Cobbs Consulting
December 2023 – Patrina Carter, Tri-County Community Action
January 2024 – Shakeva Frazier, Kick -it with Jesus
February 2024 – Keisha Averett – DPS School Board Officer
March 2024 – Karice Luck-Brimmer – Our History Matters
April 2024 – Lakesha Reed, CEO, Medical Solutions Academy
May 2024 – Latasha Austin, Realtor EXP
The June 2024 event will be in person and feature all ten speakers on a panel. Stay tuned for more information.
River District Association celebrates recent staff professional development accomplishments.
DANVILLE VA – The River District Association (RDA) celebrates the recent professional development accomplishments of three of its staff members.
Office Manager Alyssa Turner completed the local leadership program run by the Danville Pittsylvania County Chamber of Commerce, Leadership Southside. The Leadership Southside program aims to develops participants' leadership skills to strengthen their role as an individual, professional, and community member.
"Before Leadership Southside, I was always under the assumption that you needed the title to TRULY be considered a leader: CEO, Owner, Director, etc." Said Turner, "But I've learned that titles are irrelevant; you can be leader regardless of your position, and not only at your job! You can be a leader anywhere in your community."
Programs and Services Director Lashawn Farmer completed the Virginia Natural Resources Leadership Institute, a professional development program for leaders confronted with Virginia's most pressing natural resource issues who seek new skills in conflict resolution and collaborative problem solving.
"Now, because of VNRLI I can have a deeper appreciation for the environment and myself. VNRLI gave a greater sense of purpose and belonging." Said Farmer, "I am a leader and influencer and it is important to use my voice to advocate for the things that I believe in when it comes to my environment and community. Being a leader is more than a title or position, it is the person in the community that the people trust and someone who is constantly working on themselves as well as the issues. It is important to self-motivate and encourage. Sometimes the answers are discovered in silence, between each breath and during the times of peace, love and truth."
Programs and Services Manager Will Mackaman completed the Reinventing Impact: Collaboration Lab program, organized by the Danville Regional Foundation, Healthy Places by Design, and the Tamarack Institute. The Collaboration Lab is designed to help participants build local relationships, enhance collaborative leadership skills, and learn strategies for sustaining local organizational collaboration.
Mackaman said, "Collaboration Lab is an excellent leadership and relationship building program in our region. We learned that many of our community's hardest problems can only be solved when we collaborate, communicate well, and understand the problem to begin with before jumping to the solution. The goal is to eventually change the larger system for the better."
"The culture at RDA is very supportive and encourages ongoing personal and professional development opportunities" said Diana Schwartz, CEO of the River District Association. "Our goal is for our entire team to be equipped to do anything they are passionate about. Supporting learning opportunities to ensure our team consists of well-rounded individuals makes for a stronger organization and, ultimately, a stronger community."
RDA is excited to see how staff members use their new skills and knowledge to further enhance RDA's work to continue the transformation of Danville's River District as a welcoming and lively place for all, while inspiring and influencing social and economic development for the great Dan River Region.
Check out the latest North Main Street Business District Newsletter!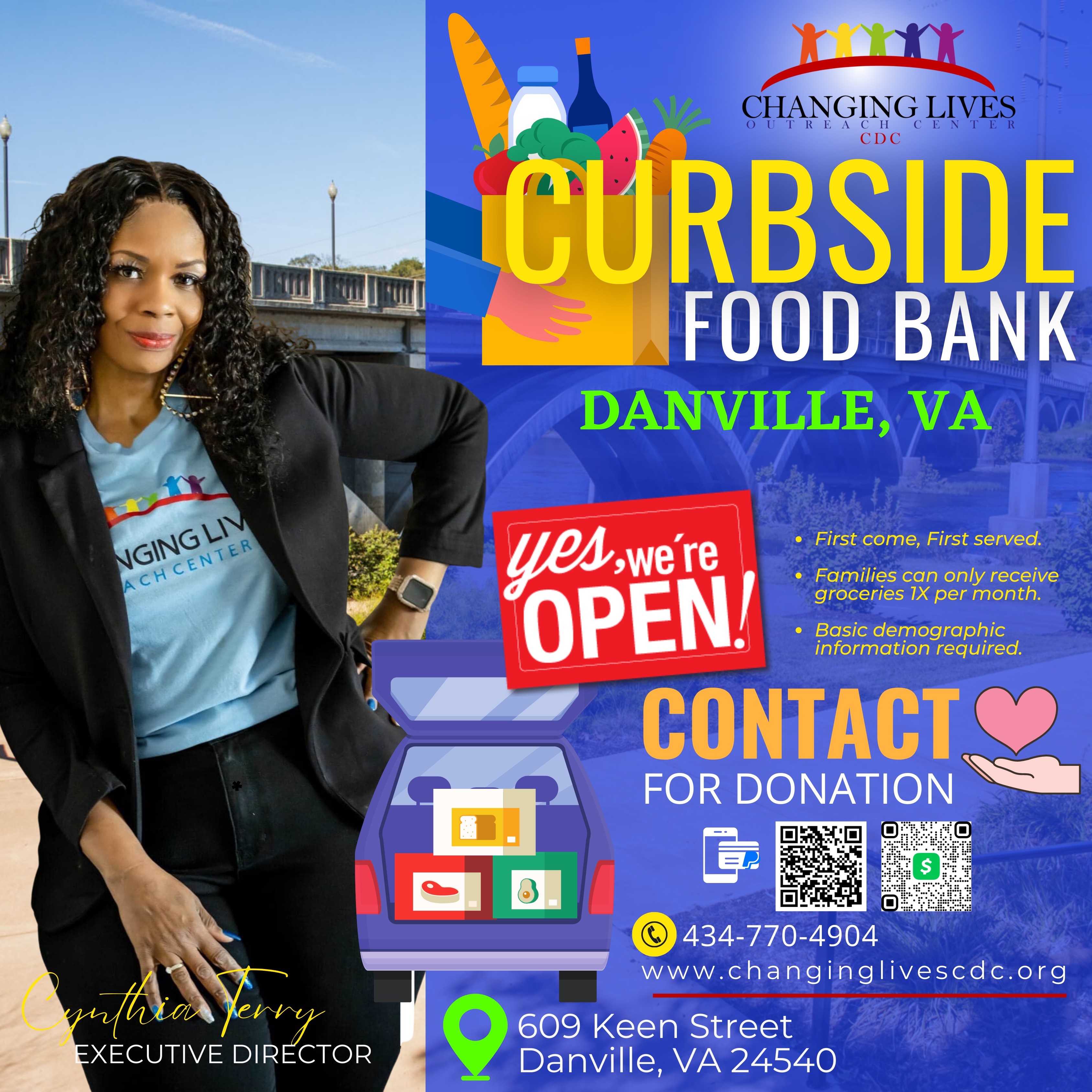 N. Main Street Business District Business Profile! Changing Lives Outreach Center CDC is run by Ms. Cynthia Terry who has always been passionate about community. The organization got its start 27 years ago, when Ms. Cynthia saw a need in her community. Her church sponsored her and she went to what is now Camilla Williams park with sandwiches, clothing, school supplies and book bags. She had over 200 people come, and began holding the event every year. Later, she ran a food bank through her church for 12 years.

In 2017 Ms. Cynthia took steps to start Changing Lives Community Outreach CDC, which became a 501 c 3 nonprofit organization in 2018. In 2019 Changing Lives Outreach Center opened its doors on N. Union Street, providing a safe place for youth to come get help with school work and learn coping strategies for strong emotions. Programs offered included afterschool support, cooking classes and more. The organization also provided food to families in need through its mobile food bank.

"Our mission is to decrease food insecurities by breaking the cycle of poverty and providing services to children and adults that will reduce barriers that hinder self-sufficiency and growth. Our vision is to be a catalyst in offering services that our community needs to promote sustainability so families can traverse through life above their current circumstances."

During the global pandemic, the foodbank was even more in demand as families looked for sources of groceries and other essentials. The Changing Lives Outreach Center began to set up the food bank weekly on tables on the sidewalk. Later, to meet the needs of those with food insecurity, the foodbank turned into a mobile food bank and has continued that way until the present. There is also a monthly food pantry on the 4th Friday of each month, as well as a grab and go lunch program for children in the summer. Changing Lives Outreach Center runs the only year round mobile food bank in Danville.

In 2019, the building on N. Union Street was sold, and the Changing Lives Outreach Center CDC moved to its current location at 609 Keen Street in the North Main Business District. The organization continues its amazing work for youth through its 20 student after school program where 20 participants moved onto the next grade, 6 made the honor roll, and 10 earned at least A's and B's in math and reading.

Student Success Story: "One young woman came to the program with very low self esteem. She didn't look up much, was shy, and was not doing well in school. After participating in the Changing Lives Outreach Center after school program, where she worked on self esteem and had the support and encouragement she needed, she is now just one letter grade from being on the Honor Roll, and doesn't stop talking!"

The Changing Lives Outreach Center CDC is currently looking for new board members who have a heart for community work, and want to make a difference and create a community where neighbors help neighbors. If you are interested in this work, visit http://changinglivescdc.org/ for more information.

Also, come out and celebrate the community! Changing Lives Outreach Center CDC turns 5 this year! The CELEBRATION will take place on August 26th from 11-2 in the N. Main Business District. It is a free community event with free hot dogs, groceries for the first 100 families, information tables from the Health Department and PATHS. Kitty's Closet will be there with clothes and students will be able to pick up school supplies. And last but not least, there will be a bouncy house for the kids! If you would like to volunteer at the event, have a vendor table, or donate food, water or your musical talents to the celebration visit http://changinglivescdc.org/ for more information.
Check out our July E-Newsletter!