Mornings on Main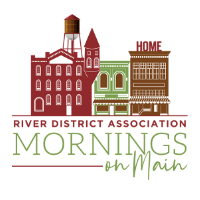 River District Association launched this monthly event in order to help build relationships between businesses, provide a space for idea and news sharing, keep businesses up to date on what's happening in the River District, and create a stronger relationship with our city partners. River District Businesses and partners can attend in person, or via Zoom. Meetings are the third Monday of each month at 10:00 a.m. If you would like to attend, please RSVP to Kirsten@riverdistrictassociation.com.
Meeting Notes
Monday, August 16, Meeting Notes

Mark your calendar:
September 20, 10 a.m.
October 18, 10 a.m.
November 15, 10 a.m.
December (Date TBD), Holiday Social!