True North Speaker Series
By: Kirsten Aherron and Lashawn Farmer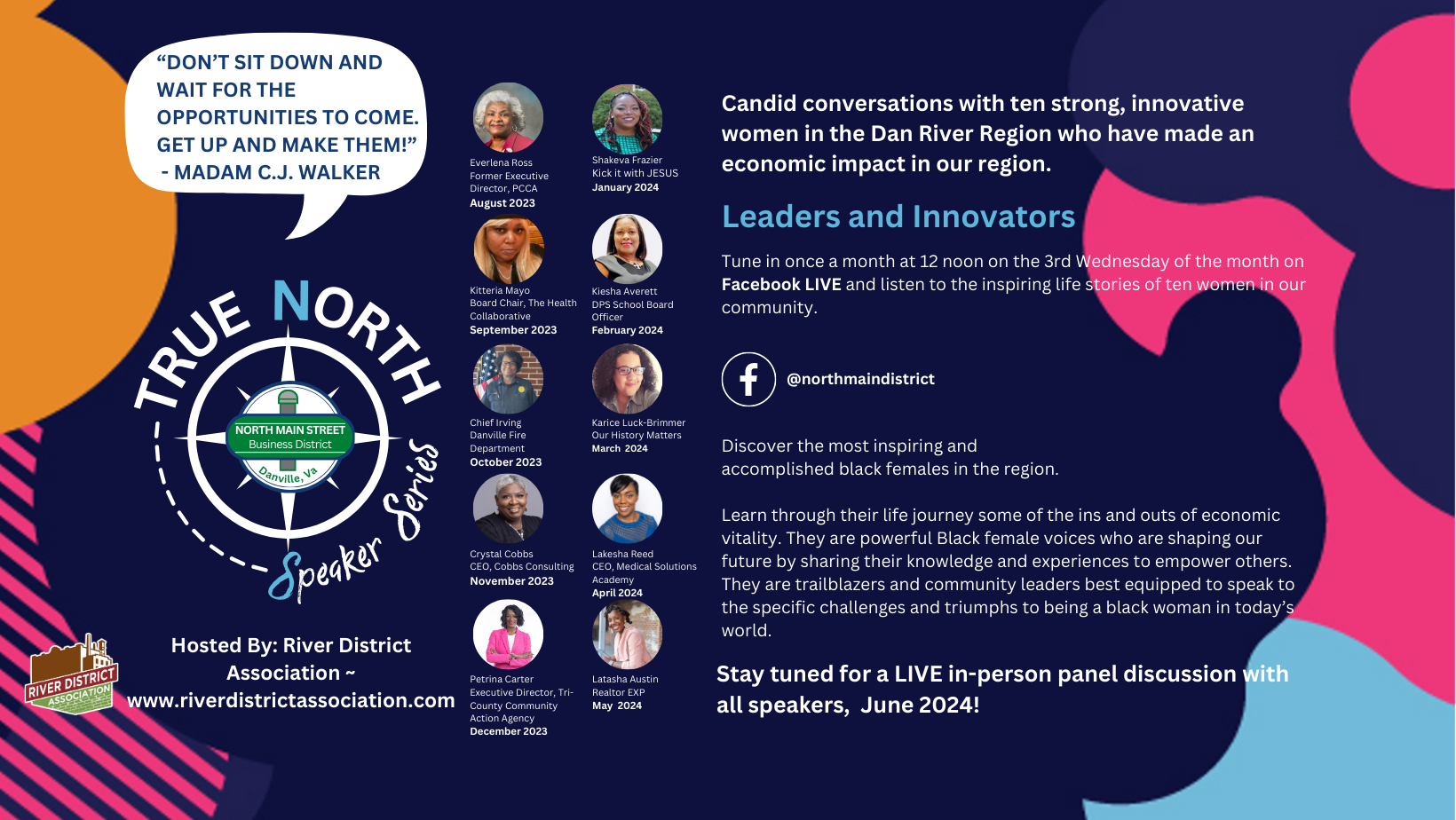 DANVILLE VA – The River District Association (RDA) is excited to invite the community to tune in to the "True North Speaker Series,' beginning on Wednesday, August 16th. The series aims to facilitate candid conversations with ten strong, innovative women in the Dan River Region who have made an economic impact in our region.
Tune in once a month at 12 noon on the 3rd Wednesday of the month on Facebook LIVE on the North Main Street Business District page (@northmaindistrict) and listen to the inspiring life stories of ten women in our community. Discover the most inspiring and accomplished black females in the region. Learn through their life journey some of the ins and outs of economic vitality. They are powerful Black female voices who are shaping our future by sharing their knowledge and experiences to empower others. They are trailblazers and community leaders best equipped to speak to the specific challenges and triumphs to being a black woman in today's world.
Programs and Services Director – Design and Expansion, Lashawn Farmer said, "It gives me great honor to be able to sit down and talk with this group of amazing women. This region has made such strides over the last decade, and it is an amazing opportunity to talk to some of the people behind the work. We often see the progress but don't know who is making the footprints. This speaker series is shining the light on the work that has been done and gives vision on what is next!"
The following women will participate:
August 2023 – Everlena Ross, Former Executive Director of Pittsylvania County Community Action
September 2023 – Kitteria Mayo, Board Chair, The Health Collaborative
October 2023 – Chief Irving, Danville Fire Department
November 2023 – Crystal Cobbs, CEO, Cobbs Consulting
December 2023 – Patrina Carter, Tri-County Community Action
January 2024 – Shakeva Frazier, Kick -it with Jesus
February 2024 – Keisha Averett – DPS School Board Officer
March 2024 – Karice Luck-Brimmer – Our History Matters
April 2024 – Lakesha Reed, CEO, Medical Solutions Academy
May 2024 – Latasha Austin, Realtor EXP
The June 2024 event will be in person and feature all ten speakers on a panel. Stay tuned for more information.