Distrx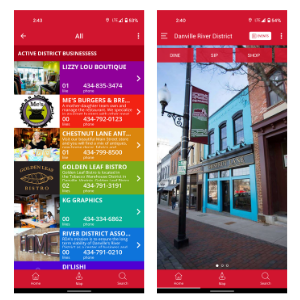 Come explore all that Danville, Virginia's River District has to offer! Download the River District Distrx app to find restaurants, retail, and experiences. You can also use the app to find parking, find events, and even take informative, narrated walking tours on your own time. Download the app by searching Distrx on your device's app store.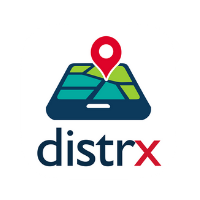 For Businesses: Get listed in the app.
The River District App also has several walking tours:
Downtown Revitalization Tour - Welcome to Danville's Downtown Revitalization Tour! The tour starts at the iconic HOME sign at the pocket park on the corner of N. Union St and Main St. Parking is available on the street, in the public parking lot just up the hill from the HOME sign, or at the Danville Transit center just down N. Union Street. The tour will take you through downtown Danville highlighting recent revitalization projects. The tour ends at the Crossing at the Dan, and you can walk back the way you came, or walk along the Dan River back to downtown, and your car. Enjoy, and be sure to stop in a visit some of our great restaurants, retail, and coffee shops as you pass them!


Civil Rights and Union Bottom Tour - Welcome to this walking tour that celebrates the entrepreneurial spirit and contributions to the Civil Rights movement, of Danville's historical African American business district. To start the tour, park at the Danville Transit Center parking lot at 515 Spring Street, then turn left to walk up Spring Street. This tour was put together in partnership with Karice Luck-Brimmer, local historian and owner of Our History Matters. You can find more about her work celebrating and teaching about Danville's Black History through tours and genealogy work by visiting her website: www.ourhistorymatters434.com.


Downtown Arts and Sculpture Tour - Welcome to a tour of the River District's art and sculpture installations. This tour will take you on a journey through the River District to see inspirational sculptures, and murals depicting the region's rich history. Take a walk, view the beautiful art, and enjoy all the views, shopping, and dining the River District has to offer. Thank you for visiting and enjoying our city!


Downtown History Tour - Welcome to this self-guided walking tour celebrating the architectural history of Danville's River District. The River District has many beautiful historic buildings. And though we can't cover every building in the River District in one tour, we hope you enjoy this taste of our downtown's history.