Dream Launch Bootcamp and Pitch Competition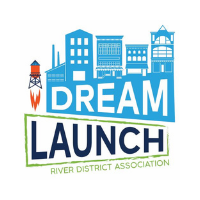 The River District Association has launched its entrepreneur program once more!
Entrepreneurs seeking to open brick and mortar businesses in the River District in Danville, VA may register for the program and will be required to attend all sessions of our "Entrepreneur Bootcamp", an intensive workshop that will meet once per week for 6 weeks beginning in January, to teach participants a full slate of skills and information that business owners need. Participants that complete bootcamp may then elect to participate in "Pitch Night" to compete for cash and other incentives; in addition to the RDA Dream Launch, participants can elect to pitch in the Danville/Pittsylvania County 'Rev-Up' Pitch Competition through the Danville Pittsylvania County Chamber of Commerce.
Once the pitch is complete, entrepreneurs that successfully present the most viable and sustainable plans, including capital investment and job creation, will be selected to receive grant funding to assist in opening their business. The application is now live, and the classes will start in January of 2022, with the pitch competition and grant awards being finalized in April of 2022.
Thank you to this year's supporters of the Dream Launch Program:
Virginia Department of Housing and Community Development (DHCD)
Virginia Community Business Launch (CBL)
The City of Danville
The Dan River Region Entrepreneurship Ecosystem (DREE)
American National Bank
Movement Bank
Danville Pittsylvania County Chamber of Commerce
The Launch Place
Longwood Small Business Development Center
Institute for Advanced Learning and Research

2021

2020


2019