E-Ren: E-Commerce Renovation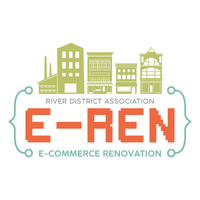 Vibrant online networking and marketing has never been more important! The Covid 19 crisis has only highlighted the need for business owners across the nation to move to social media and online sales. To help Danville's downtown businesses make that move successfully, the River District Association (RDA) is launching E-Ren program, which will cover the cost for a minimum of eight business owners to construct or improve their own e-commerce sites as part of an upcoming and comprehensive website building learning lab.
"We're extremely excited to present this series of e-commerce workshops," RDA Executive
Director Diana Schwartz said. "We want to help businesses that don't have an e-commerce
storefront establish a website or add online sales to an existing one. The great thing about this
program is that it will also teach business owners how to manage their own sites."
This program is not currently live, however if you are interested in revamping your website and online presence, please contact RDA for more information, as the program may be re-launched in the future.