Murals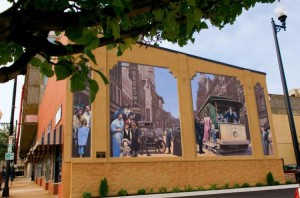 When the River District Association (RDA) began the Historic Murals Program, our objective was clear. We wanted to do something that would bring people downtown again!
Downtown Revitalization
RDA has been working for the past 5 years to revitalize the downtown Danville community by utilizing Main Street America's Four-Point Approach™ and has, in fact, made some remarkable progress. There are now 21 businesses and over 60 employees downtown that were not here 5 years ago. Almost $2 million has been spent in private improvements to downtown properties, most of that in the last 18 months. That figure does not include property acquisition; it represents money spent to improve the property inside and out. Thanks to a very generous façade improvement grant incentive program provided by the City of Danville, 22 store fronts now sport gleaming new faces, and 4 new façade projects are currently in the works.
Results
If you have been downtown lately, you will notice the difference. Years spent laying the groundwork and making small, incremental changes are paying off! In addition to the new stores and offices opening in the River District, residential development is also underway. Since 2006, well over 100 apartments and condominiums have been added to the River District's housing stock!
What's more, flower baskets and planters brim with bright floral displays. And, the Martin Luther King Bridge has been completed with a dynamic Gateway treatment to the intersection of Main and Craghead, where the Historic Tobacco Warehouse District and the Historic Downtown District come together.
Mural Program
So how does the Historic Murals Program add to the mix? There are three major contributions to our city that a comprehensive mural program can make:
It fills a void for easily accessible public art in the community.
It stimulates economic development in the Historic Districts by attracting tourists to Danville to view the murals.
It provides a panoramic history lesson to tell Danville's stories with sensitivity and respect, while fostering a sense of pride in our community.