Façade Improvement Grant Program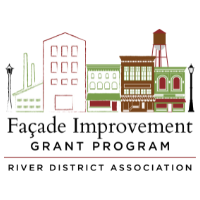 The River District Façade Improvement Grant Program is designed to assist property and business owners in rehabilitating facades for commercial buildings and businesses in the River District. Positive visual impact stimulates private investment, and complements other community development efforts. We want to provide you with the resources to improve the exterior appearance of your business.
A total of $5,000 is available to be awarded in matching grant funding. Grants are required to have a 1:1 match (50% up to $5,000).
To date, the River District Association has awarded over $100,000 in Façade Improvement Grants!
Download the application for full details and guidelines about what types of projects are eligible for the FIG program.
As part of the FIG program, you may be able to receive complimentary façade renderings for your building.
Recent River District Façade Rendering Example:

Thank you to Solex Architecture for sponsoring the Façade Improvement Grant Program.