Dream Launch Awards - Bliss Hair and Nail Studio
By: Kirsten Aherron, Gabriela Blair, Maria Blair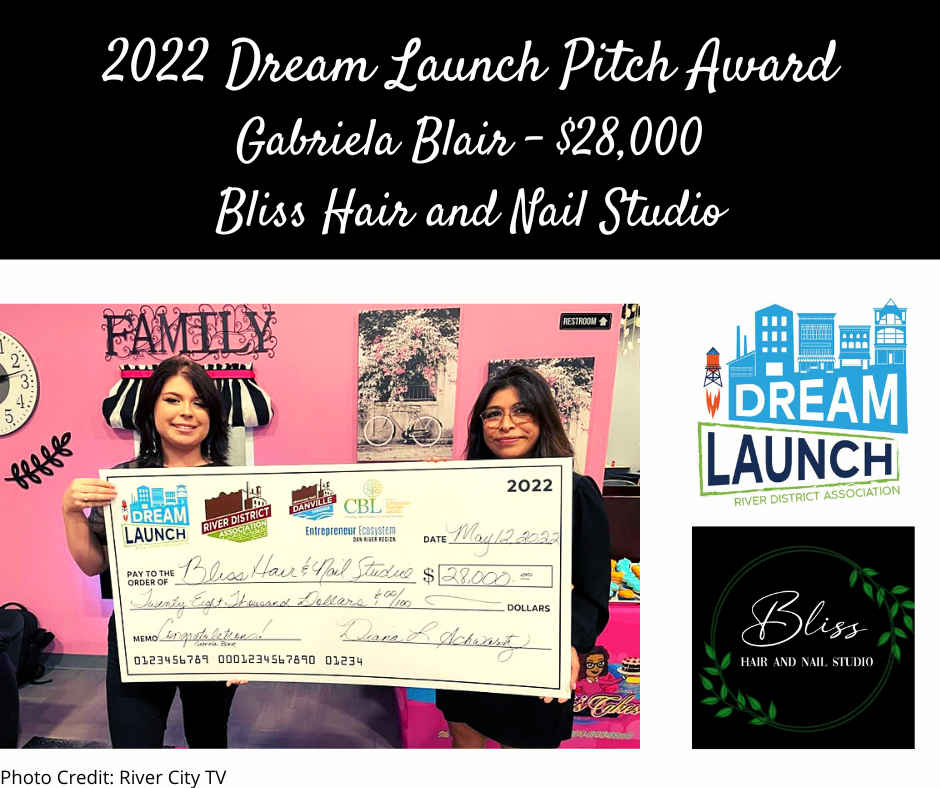 Bliss Hair and Nail Studio owners, Gabriela and Maria Blair, decided to open their business on Main Street in Danville because they wanted to establish a hair and nail salon that brings the newest, latest modern trends of the beauty industry and to be on par with other bigger cities. Their mission is to be dedicated to providing personalized attention with genuine care to their clients and guests in a warm, relaxing atmosphere that is welcoming to everyone. Bliss Hair and Nail Studio uses only eco-friendly, cruelty-free and sustainable products because they want to nourish the health of their customer's hair and teach them how to take care of it well.
They wanted the studio to be located in the River District because it is exciting to see Danville and the River District coming to life. They put a lot of thought into the studio's design, taking into consideration the historical architecture and feeling of the building. With a calming green color, and natural design accents, they intentionally designed the salon to be comfortable and welcoming to whomever walks in. They are qualified to work with many kinds of hair and are also bi-lingual: English and Spanish.
Mother-daughter team Maria and Gabriela came to Danville from Nicaragua 24 years ago and Danville has been their second home since then. They see how much potential Danville has and want to be a part of making Danville beautiful by adding their strengths and vision to all the other creative ventures in the community. They love Danville because it has so many elegant and charming buildings that are waiting for people in the community to bring their unique tastes, creative ideas, and bring to life to those empty, dark places and they see these historical buildings like hidden treasures that need to be polished to make them shine.
What made you decide to take part in the Dream Launch Bootcamp/Pitch Competition?
"We began dreaming of opening Bliss Hair and Nail Studio in 2018 and planned on opening in 2020. The first step we took was to go to the Economic Development Office for advice and information and we talked to Kelvin Perry. He encouraged us to do the Dream Launch program. During COVID everything shut down, but we kept busy writing our business plan during quarantine. By early fall of 2021, we began preparing for Dream Launch to start class in January 2022."
How would you describe your experience in the Dream Launch Bootcamp?
"The River District Association is doing an amazing job working tirelessly to help make our community grow. It provided great insight to see so many industries come together with one common goal. Anyone who is interested in starting a business should take the Dream Launch program."
How will the Dream Launch Grant funds help you expand/start your business?
"The funds helped us to expand into our second opening phase by offering nail care services in the River District. We are bringing the latest models and technology of nail equipment. We are bringing a vast inventory of products for hair, skin, and nails and we designed a custom-made color bar that will hold the entire color spectrum of hair color shades."
Any words of wisdom for new entrepreneurs?
"Put the work in motion and be intentional. Put love into everything you do. Gain knowledge by reading and researching!"