Dream Launch Awards - The Brick Running and Tri Store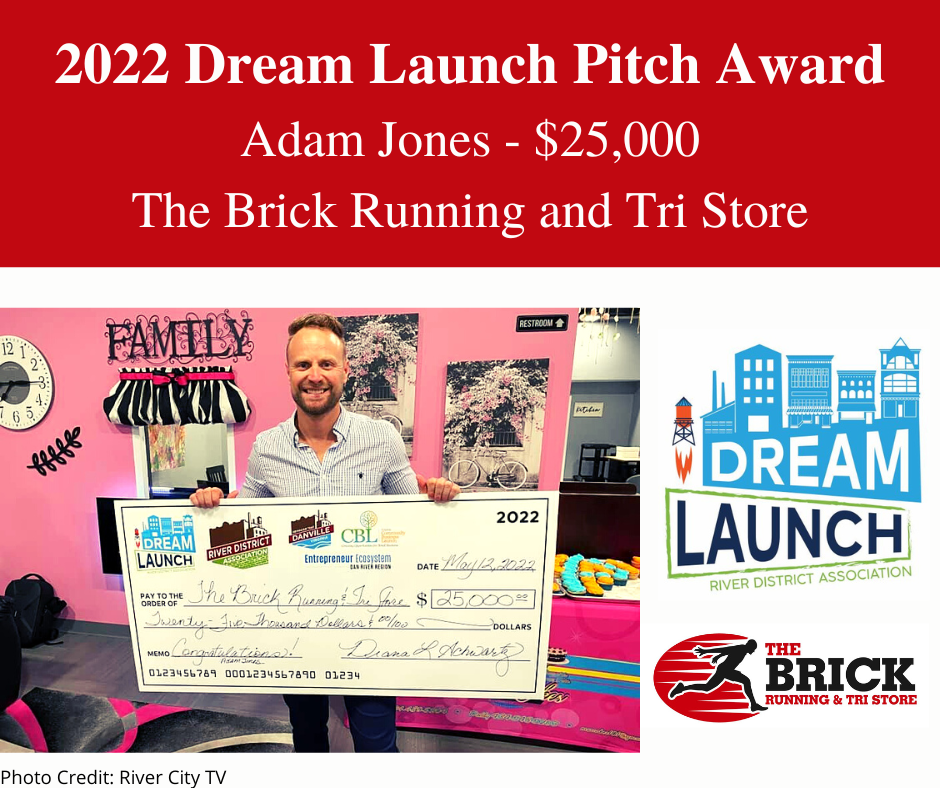 The River District Association is excited to celebrate the 2022 Dream Launch Pitch Grant Awardees! These businesses participated in a 6 week Dream Launch Bootcamp that covered topics from financial planning, business planning, access to capital, marketing and more. Those that attended all 6 classes were able to pitch for funding if they chose to.
The Brick Running and Tri Store, owned by Adam Jones, was awarded a $25,000 grant to expand the business located at 410 Main Street.
Owner Adam Jones was born and raised in Danville, VA. He remembers over ten years ago when the idea for The Brick started with a brainstorm on the back of a napkin while sitting in Red Lobster. And on April 14th, ten years ago, The Brick opened on Main Street in Danville, to be a business specializing in shoes, apparel, equipment and nutrition for walkers, runners and triathletes. Adam attributes the store's success to his motto "people over profit" and focuses on how the store can provide great service.
The awarded funds will be used to expand The Brick's service and product offerings, related to bike sales and gear, as well as bike repair. The funds will also allow the store to expand into the building's upstairs space, providing more retail space and a common space for group gatherings that will allow the store to be even more of a community hub where relationships and friendships are forged through the love of physical activity.
What made you decide to take part in the Dream Launch Bootcamp and Pitch Competition?
"I heard about it years ago when it first started, and didn't think it pertained to my business. But then I realized businesses wishing to expand could also participate. I wanted to expand my businesses bike offerings, as well as the retail square footage, so I decided to participate this year. I also knew that no matter what, the experience of networking with like minded individuals, and receiving professional feedback would be valuable."
How would you describe your experience in the Dream Launch Bootcamp?
"Dream Launch was a great experience. It was informative and inspirational. Getting to meet new businesses, and learning from established business owners and getting to consult with SBDC was very valuable."
Words of Wisdom for new Entrepreneurs?
"What's easy to do, is easy not to do. Pay attention to details like saying thank you to those who support you and providing amazing customer service. Start small, have a big vision, and have tenacity. Stay out of unnecessary debt."
For more information and to get connected, visit The Brick's website and Facebook page. Happy running, walking, swimming, and biking!