Dream Launch Awards - The Cosmetic Art Store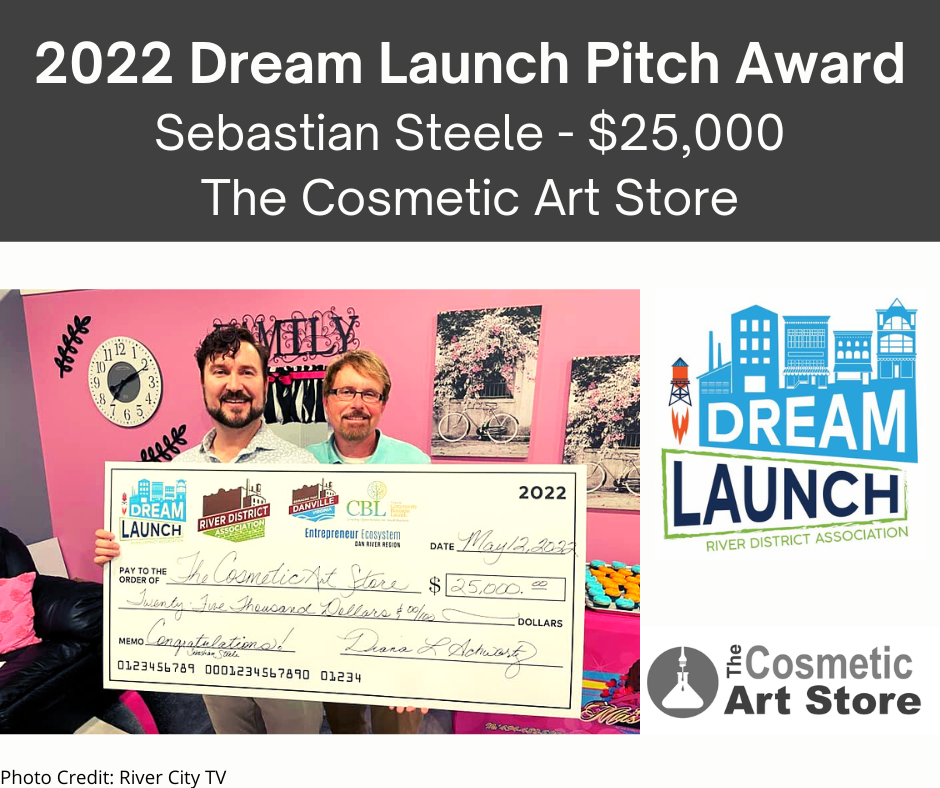 The River District Association is excited to celebrate the 2022 Dream Launch Pitch Grant Awardees! These businesses participated in a 6 week Dream Launch Bootcamp that covered topics from financial planning, business planning, access to capital, marketing and more. Those that attended all 6 classes were able to pitch for funding if they chose to.
The Cosmetic Arts Store, owned by Sebastian Steele, was awarded $25,000 to help establish the business in a brick and mortar location in the River District.
The Cosmetic Art Store is a business to business distributor to salons in the region. The business opened in June of 2020 and sells all the products and supplies necessary to run a hair or nail salon. The Cosmetic Art Store only carries brands that are family owned, and are only available in salons.

Sebastian started the business as a way to support the industry that he loves and that gave him a successful career. When he was 15 he became homeless, but was able to open his first salon when he was 16. That step in his life was an amazing opportunity that led him to live and work all over the United States from Washington, DC, to L.A.. Eventually his journey brought him to Chapel Hill, NC to run the Aveda Institute there. During this time he heard about Danville and all the growth and revitalization happening in the community. He visited and fell in love, eventually moving here to work in real estate, and open the Cosmetic Art Store. The salon industry gave him an opportunity to turn his life around, and he wants to be a part of doing the same by supporting the next generation of beauty entrepreneurs and salon owners.

What made you decide to take part in the Dream Launch Bootcamp and Pitch Competition?
"I wanted the Cosmetic Art Store to be in the River District. I actually did the Dream Launch Bootcamp in 2019, but was only able to attend half the classes, and have wanted to finish the experience ever since. I was able to participate this year, and am excited to be in the River District, renovating a building that needs work, and being a part of revitalizing the River District."

How would you describe your experience in the Dream Launch Bootcamp?
"It was well run, very clear, and I got more out of it than I expected. I have experience running large businesses so some of that material was a review, but some was also new and specific to the area. Also, participating made me redo my business plan, and I realized I was in a better place than I expected."

Any words of wisdom for new entrepreneurs?
"Make connections, participate actively in your network, seek out resources. Through relationships made at Dream Launch I have met new accounts and found reliable contractors. I am excited to see what RDA continues to do!"