RDA Launches GET Boosted Program
This blog originally appeared on the Virginia Main Street Blog. Read it there, and learn about what other Virginia Main Streets are doing.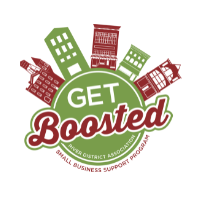 Danville's River District Association (RDA) has launched a new program specifically designed to help existing River District businesses think creatively about projects or improvements that could boost their business to the next level.
"We are grateful to the Department of Housing and Community Development, Virginia Main Street, and the City of Danville for their support in helping us retain, grow, and expand our existing businesses in the River District", says Diana Schwartz, RDA Director, "we are always excited to welcome new business into the district, but it is crucial to support businesses that are already invested here. Business retention is one of the most important things we can do at RDA, and we are grateful to have the opportunity to do it".
RDA GET Boosted (Growth, Expansion, Training) is a three-part, business assistance program that offers space and opportunity for business owners to get creative, access expert technical advice, and submit for grant funding to make their creative ideas a reality.
Phase 1: Get Creative, is a 2-hour professionally facilitated group ideation session. Participating businesses will be guided to brainstorm individually and in groups to think creatively about solutions to challenges they face. This gathering is designed to inspire participants to think outside the box, and also lean on each other to answer the question: If I had/could implement _________ then my business would be able to _____________.
Phase 2: Make a Plan, asks participating businesses to submit a brief explanation of their idea generated at the Get Creative session. RDA will work one-on-one with businesses to turn their creativity into a plan. If businesses already have a plan but need a little financial boost to make it happen, they can apply for a grant to implement their idea.
Phase 3, Make it Happen, invites participating businesses to submit a grant application to help implement and fund their creative idea. Grant awards may be up to $5,000 depending on the projects submitted, and funds available. This grant money can be used to hire a subject matter expert to move the idea forward, or to pay for a project.
Kelvin Perry, project manager for the City of Danville Office of Economic Development encouraged all businesses in the River District to take advantage of this unique opportunity. "Last year was a very challenging year for all of our businesses in the River District and throughout the region,'' said Perry. "This program will give our small businesses the opportunity to think outside the box and the resources necessary to develop and implement a product or service that will have a positive impact on their business."