GET Boosted - Blush and Glow Spa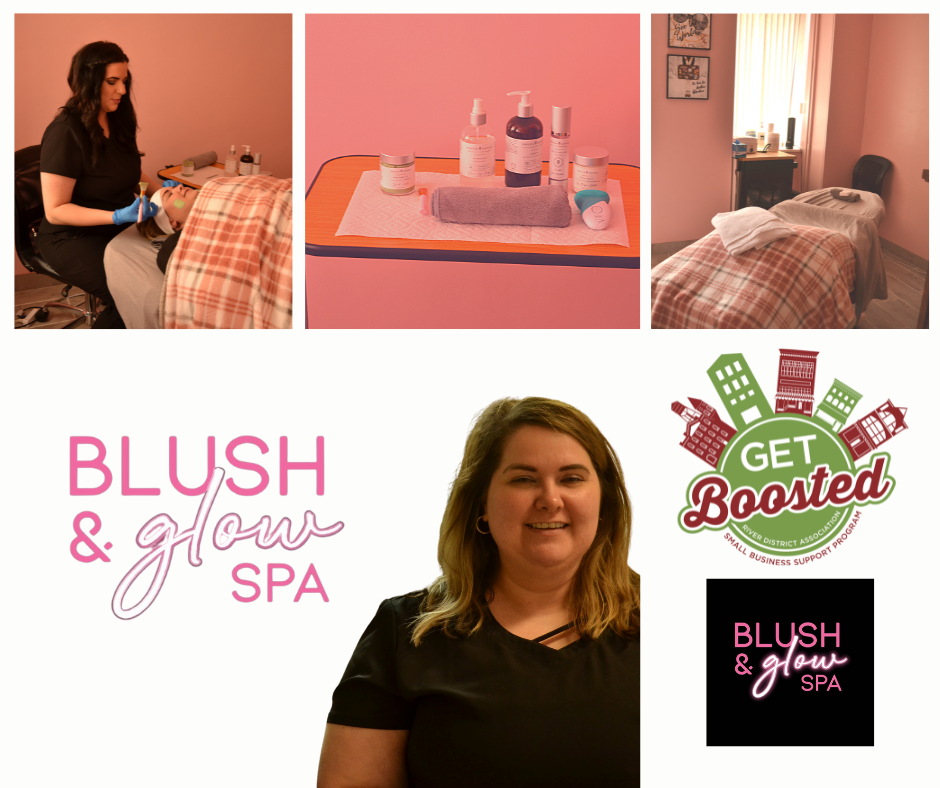 River District Association is excited to begin announcing the projects of GET Boosted Grant Recipients! GET Boosted is a River District Association program that was developed to provide established River District Businesses with planning guidance and financial support to develop projects, or purchase equipment to give their business a boost and allow them to expand in creative ways.
Each business worked directly with River District Association and the Longwood Small Business Development Center to develop an idea and a plan, and were then invited to apply for grants up to $5,000 to put their plan into action.
Blush and Glow Spa, located at 530 Main Street, Suite 207 used the GET Boosted funds to create marketing materials and videos based on the businesses recent rebranding.
Owner Lauren Parks opened Blush and Glow Spa (formerly Blush and Bashful Waxing Spa), on Lynn Street in 2018 offering waxing services. In 2020 she participated in RDA's Dream Launch Bootcamp and Pitch Competition and was awarded funds that allowed her make the jump from being a solo operator to adding employees, and funding the purchase of additional required equipment for the growth of the business.
Blush and Glow Spa expanded again in 2021. The business moved to a larger space at 530 Main Street, Suite 207 and added several additional services in addition to waxing, including eyebrow shaping, facials, lash services, and airbrush tanning.
In 2022, Blush and Glow Spa is expanding again into the first floor of their current building and adding a salt lounge and yoga studio!
The professional marketing videos Blush and Glow Spa is using GET Boosted funds to create will help the business spread the word about all the services offered.
To learn more about Blush and Glow Spa, and to schedule an appointment for services, you can check out their website, http://blushandglowspa.com, and their Facebook Page, https://www.facebook.com/BLUSHandGLOWspa