GET Boosted - River District Auto Spa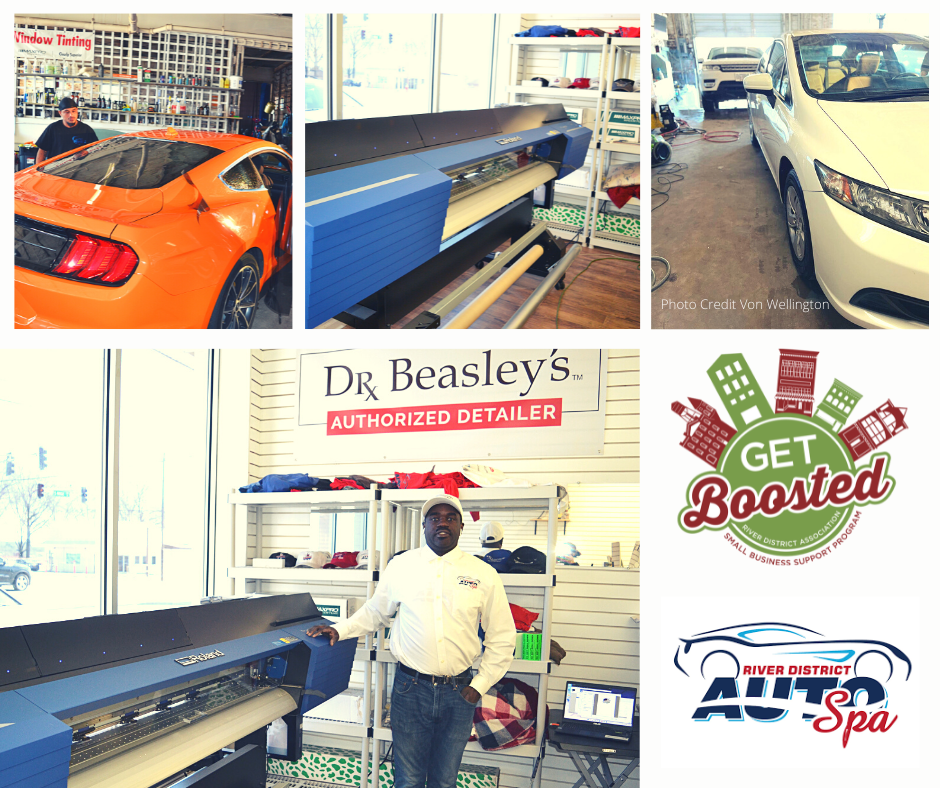 River District Association is excited to begin announcing the projects of GET Boosted Grant Recipients! GET Boosted is a River District Association program that was developed to provide established River District Businesses with planning guidance and financial support to develop projects, or purchase equipment to give their business a boost and allow them to expand in creative ways.
Each business worked directly with River District Association and the Longwood Small Business Development Center to develop an idea and a plan, and were then invited to apply for grants up to $5,000 to put their plan into action.
River District Auto Spa located at 136 S. Ridge Street used GET Boosted funds to purchase a 54 Inch TruVIS Vg2-540 Roland decal and banner printer.
River District Auto Spa owner Von Wellington began the auto detailing business in 2015. He works in film and photography in the region and wanted to get to know people, put faces to names, be a part of the community, and offer something needed.
Originally, he started the River District Barbershop, and was then offered the use of the whole building. In the back of the building is a garage space with a lift, and he decided to start an auto detailing business in addition to the barber shop.
He went to Chicago to become certified by Dr. Beasley's in auto detailing at the International Detailing Association. The training consists of 10 units and quizzes done online, and an in person demonstration of skills to the top detailing professionals in the country. Once having a successful demonstration, Von Wellington was then certified to teach others in the industry. He also added to his credentials by traveling to Atlanta to learn how to professionally tint windows, and apply wraps to autos. He is also now certified to teach other professionals how to detail cars.
With the addition of the 54 inch Roland decal and banner printer and also a laminator, River District Auto Spa is able to do custom wraps, decals, and even business banners. Detailing companies around the region are already contracting with River District Auto Spa to produce wraps and decals for them.
When the Covid Pandemic started, the River District Barbershop had to close down, and the Auto Spa decided to repurpose the space into a clean, brightly lit room where the wraps, window tinting, and ceramic coatings they offer could be applied with clarity and precision. It will also be a space for training and workshops for those interested in learning how to do the services offered at the River District Auto Spa.
Von Wellington wants everyone to know that the River District Auto Spa offers impeccable extremely professional services at reasonable prices, and everyone is welcome. They give the same level of care, service, and detail, to your car whether you have a 20 year old Ford Focus, an antique treasure, or a brand new Ferrari!
River District Auto Spa offers the following services:
Washing
Full detailing
Tinted window installation
Ceramic protective coatings
Wrap and decal installation
Workshops and trainings
The River District Autos Spa is open 7am - 7pm, 7 days a week. You can call 434-728-3459 or book and pay for your service on the website: https://www.riverdistrictautospa.com/