The Brick Running and Tri Store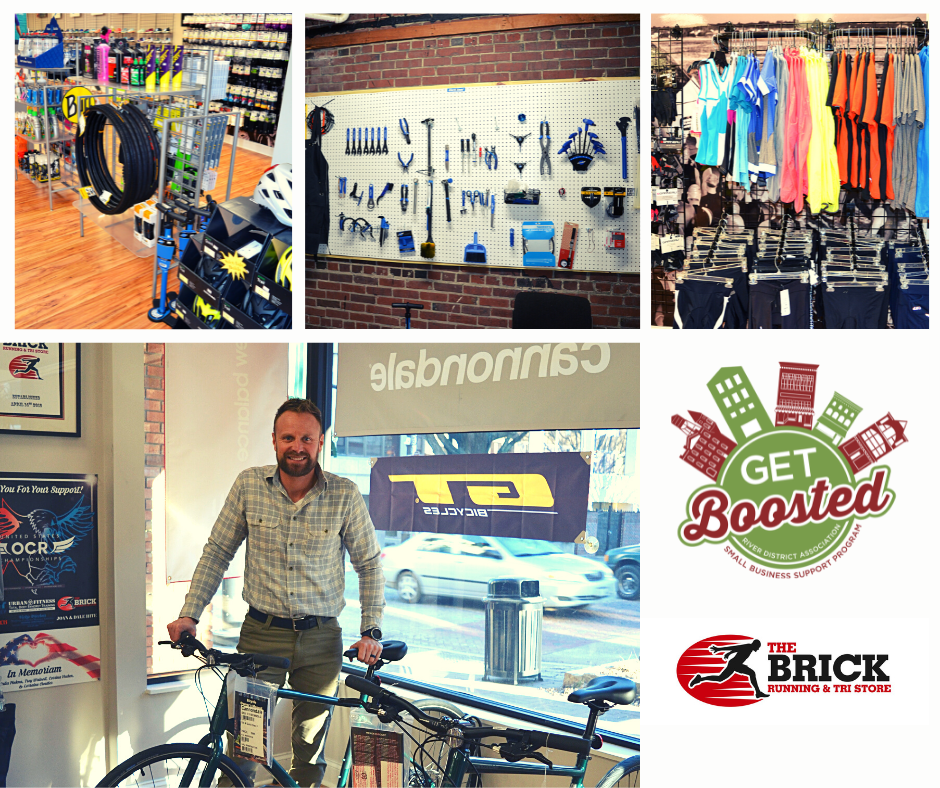 River District Association is excited to begin announcing the projects of GET Boosted Grant Recipients! GET Boosted is a River District Association program that was developed to provide established River District Businesses with planning guidance and financial support to develop projects, or purchase equipment to give their business a boost and allow them to expand in creative ways.
Each business worked directly with River District Association and the Longwood Small Business Development Center to develop an idea and a plan, and were then invited to apply for grants up to $5,000 to put their plan into action.
The Brick Running and Tri Store is located at 410 Main Street and used GET Boosted funds to expand the store's products and services offerings to bikes, bike accessories, clothing, helmets and repair and tune-ups.
Owner Adam Jones was born and raised in Danville, VA. He remembers over ten years ago when the idea for The Brick started with a brainstorm on the back of a napkin while sitting in Red Lobster. And on April 14th, ten years ago, The Brick opened on Main Street in Danville, to be a business specializing in shoes, apparel, equipment and nutrition for walkers, runners and triathletes. Adam attributes the store's success to his motto "people over profit" and focuses on how the store can provide great service, and also be a community hub where relationships and friendships are forged through the love of physical activity. This community is built through running and walking groups and events such as community 5k's. Currently groups meet at the store at the following times:

Group Runs: Tuesdays & Thursdays at 6:15pm
Group Walks: Wednesdays at 5:30pm
The Brick used the GET Boosted funds to expand products, services, and a sense of community to those who love biking! The Brick now sells three brands of bikes (Cannondale, GT, and Schwinn) as well as bike accessories, tires, pumps, apparel, and helmets.
Additionally, the funds allowed the store to purchase a bike stand and a full set of bike repair and tune-up tools. In addition to bikes and products, The Brick can also service or repair your bike.
For more information and to get connected, visit The Brick's website and Facebook page. Happy running, walking, swimming, and biking!