GET Boosted - Urban Fitness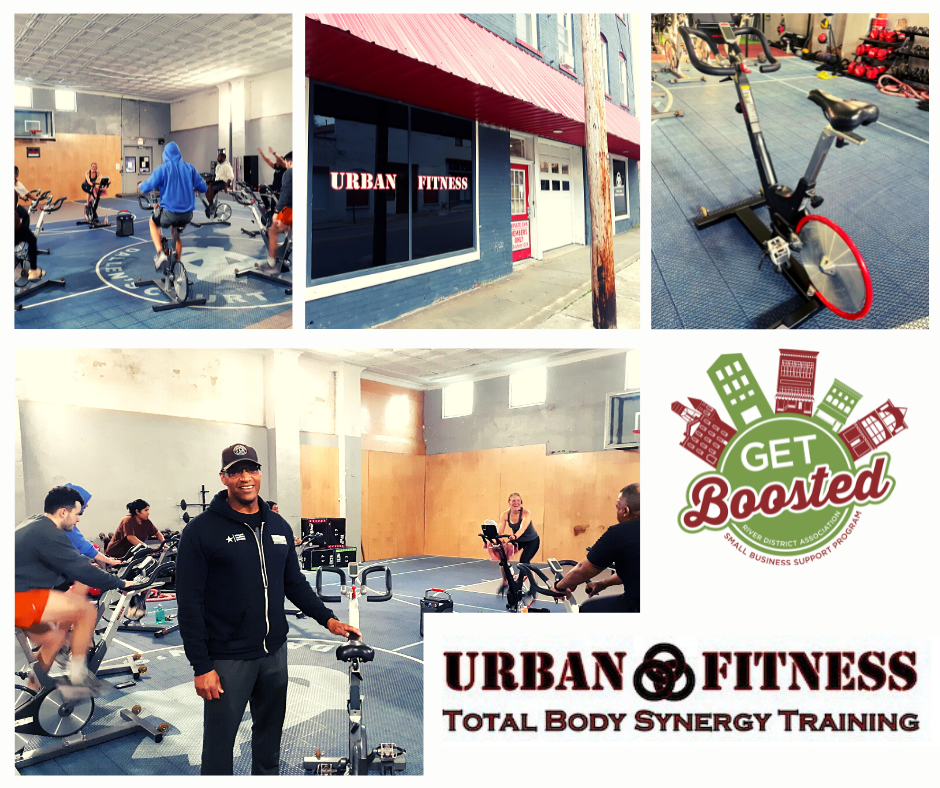 River District Association is excited to begin announcing the projects of GET Boosted Grant Recipients! GET Boosted is a River District Association program that was developed to provide established River District Businesses with planning guidance and financial support to develop projects, or purchase equipment to give their business a boost and allow them to expand in creative ways.
Each business worked directly with River District Association and the Longwood Small Business Development Center to develop an idea and a plan, and were then invited to apply for grants up to $5,000 to put their plan into action.
Urban Fitness, located at 525 Loyal Street used the GET Boosted funds to purchase 6 spin bikes.
Owner Ken Jones has operated Urban Fitness in the River District for the past twelve years. This hybrid gym offers memberships, and facilities for weight training, basketball, and general sports training. They also offer personal training and fitness classes. Ken Jone's classifies his business as "an old school motivational gym."
With the addition of 11 (6 purchased with GET Boosted funds) spin bikes Urban Fitness is now able to offer spin classes four times a week. The spin classes are open to anyone in the community, not just gym members. Classes are now offered Tuesday and Thursday at 6:30 am, and Monday and Wednesday at 6 pm. Classes are $10.
Ken Jones is excited to offer spin classes in the River District because it is excellent at increasing cardio health, and body sculpting. Additionally, it is a great form of exercise that can be done with a group, while also following social distancing guidelines if needed.
In addition to the four classes per week that are open to the public, Urban Fitness also offers private classes for family or corporate groups. Owner Ken Jones is excited to offer this new service, help increase the community's fitness options, and to be a part of the River District's growth.
To learn more about Urban Fitness, and to sign up for spin classes you can visit the gym's Facebook Page, or sign up for a class online HERE.